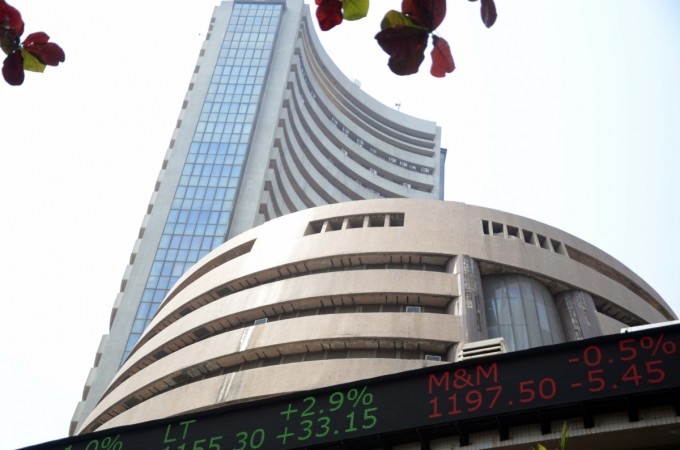 BSE Sensex jumped 485 points to close at 28,141, while NSE Nifty ended 155 points higher at 8,716.
The markets will commence trading before the Union Budget for 2017-18 (Budget 2017) is presented by finance minister Arun Jaitley on Wednesday (February 1). We will be bringing you live updates on Sensex and Nifty and reactions on Twitter, besides views of analysts and experts.
03.30 pm IST: Budget 2017: Government to phase out tax sops on Rajiv Gandhi Equity Scheme
03.25 pm IST: Government doubles lending target of banks to Rs 2.44 lakh crore
03.22 pm IST: Positive announcements for real estate sector in Budget 2017:
direct tax relaxation to lowest income earners
clarity on beneficiaries under Pradhan Mantri Awas Yojana
new Credit Linked Subsidy Scheme for the middle-income group
extension of tenure of loans under CLSS of Pradhan Mantri Awas Yojana
02.43 pm IST: Government to borrow Rs 3.5 lakh crore in FY2017-18
02.40 pm IST: Shares of cigarette makers gain as the finance minister proposes excise duty hike of 2.5% to 6% for different size cigarettes, much below markets' expectations of 8% to 10%
02.21 pm IST: BSE oil and gas index trades up over 1.5% after Jaitley announced the creation of an integrated oil company by merging state-run firms.

02.10 pm IST: At around 2:10 pm, BSE Sensex is trading 400 points higher at 28,060, while NSE Nifty is 125 points up at 8,685.

02.02 pm IST: Cement stocks gain after FM Jaitley allocates Rs 3.96 lakh crore for infrastructure sector
01.30 pm IST: "If FIPB (Foreign Investment Promotion Board) is abolished it really means that there would be no sector under the approval route and everything will be under the automatic route. I think that's a great move," Amit Jain, Partner, M&A, BMR & Associates, told Reuters.
01.27 pm IST: No change in capital gain tax on listed and unlisted securities either in the short- or long-term
01.25 pm IST: Finance minister sets FY2017-18 divestment target at Rs 72,500 crore
01.20 pm IST: "The fiscal deficit of 3.2 percent missed the target, but laudable efforts nonetheless. Markets should love the lower net borrowing figure of 3.4 trillion rupees," Tirthankar Patnaik, India Strategist, Mizuho Bank, told Reuters.
01.18 pm IST: When Lord Ganesha takes a rail ride: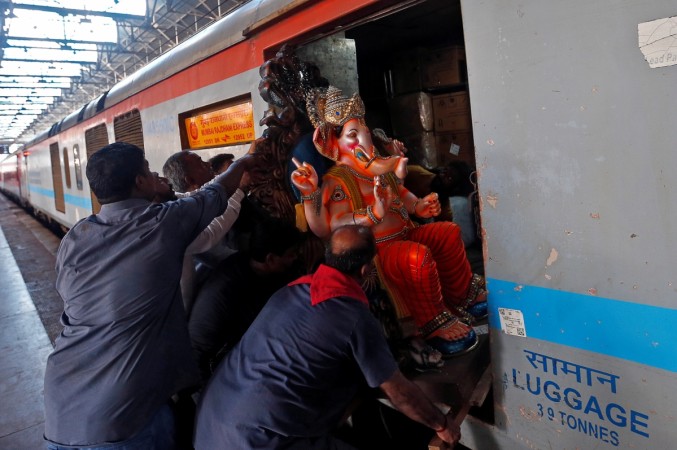 01.05 pm IST: Budget allocates Rs 10000 crore for 2017-18 to recapitalise PSU banks; SBI shares up 3%
12.57 pm IST: 1-page form for filing return - income up to Rs 5 lakh (no business income)
12.54 pm IST: Presumptive audit limit has been increased from Rs 1 crore to Rs 2 crore
12.51 pm IST: FM Proposes to reduce income tax rate to 5% for tax slab of Rs 250,000 to Rs 500,000
12.49 pm IST: Customs duty on LNG cut by 2.5%; GAIL and Petronet LNG shares up
12.47 pm IST: Jaitley proposes to amend RBI Act for issue of electoral bonds for political funding
12.45 pm IST: No transaction over Rs 3 lakh will be permitted in cash, says FM
12.40 pm IST: Base year shifted from 1981 to 2001 for indexation on all long-term assets
12.36 pm IST: Extends relaxation on withholding tax on foreign investor's interest income from debt until June 30, 2020
12.35 pm IST: FM proposes to make changes in capital gains tax for housing
12.28 pm IST: Jaitley pegs fiscal deficit target at 3.2% of GDP for next fiscal year
12.22 pm IST: To provide Rs 10,000 crore capital infusion to PSU banks in FY2017-18
12.22 pm IST: Defense expenditure excluding pensions provided a sum of Rs 274,114 crore
12.17 pm IST: Budget: Govt considering introduction of new law to confiscate assets of big-time offenders
12.15 pm IST: Airtel/Idea vs Jio free offer: TDSAT directs TRAI to file decision by tomorrow. Matter listed for February 6: Bloomberg.
12.15 pm IST: AadhaarPay will be launched shortly, says FM
12.13 pm IST: IRCON, IRCTC to be listed this year
12.08 pm IST: Finance minister proposes to create integrated oil company: Is he hinting at merging major state-run oil PSUs to create an Indian oil and gas behemoth?
12.05 pm IST: Finance minister says to abolish Foreign Investment Promotion Board
12.01 pm IST: Service charges on e-tickets through IRCTC to be withdrawn
11.58 am IST: A sniffer dog checks bags containing budget papers inside the parliament premises in New Delhi on February 1.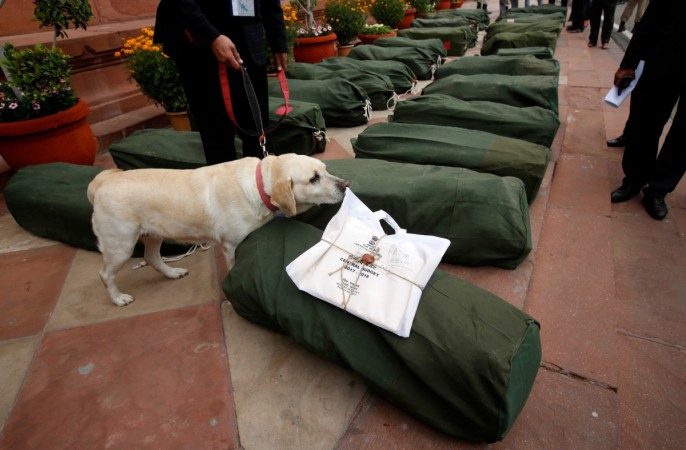 11.43 am IST: Allocation for rural, agriculture and allied industries at Rs 1.87 lakh crore, up 24% year-over-year, says Jaitley.
11.30 am IST: With better monsoon, agriculture is expected to grow at 4.1% in 2016-17, says the finance minister. About Rs 10 lakh crore target of credit for farmers this year.
11.25 am IST: Miss France Iris Mittenaere reacts before outgoing Miss Universe Pia Wurtzbach places the Miss Universe crown on her during the 65th Miss Universe beauty pageant in Manila, Philippines.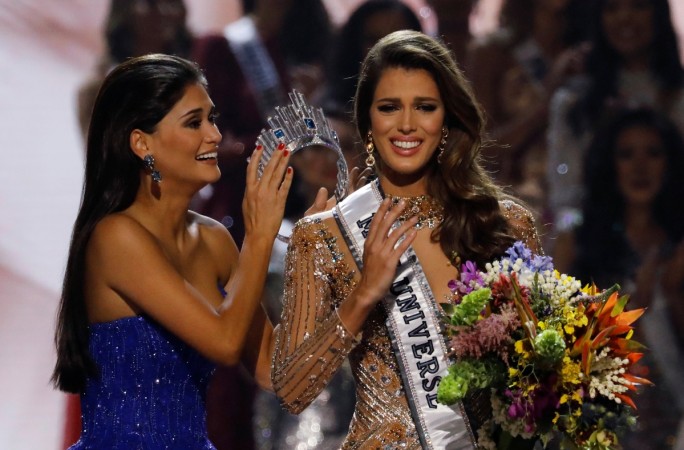 11.14 am IST: IT industry body Nasscom has said the US Bill proposing more than doubling the minimum wages for H1B workers from the current $60,000 to $130,000 will pose a big challenge to the Indian information technology sector.
11.07 am IST: Apple CEO Tim Cook has reportedly emphasized the company's strong intention to "invest significantly" in India.
11.03 am IST: Shares of state-run banks rise ahead of Jaitley's Budget presentation as traders are hoping for higher than the planned capital infusion by the government.
10.55 am IST: Indian factory activity returned to modest growth in January, bouncing from a contraction in December. The Nikkei Manufacturing Purchasing Managers' Index rose to 50.4 in January from 49.6. A reading above 50 indicates expansion.
10.35 am IST: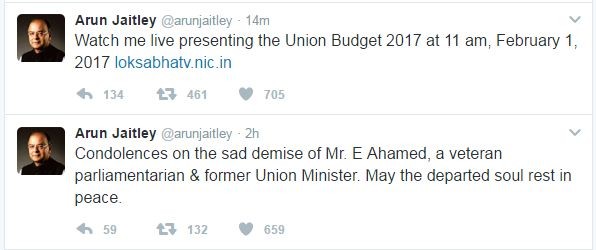 10.25 am IST: Maruti Suzuki January auto sales upbeat; domestic sales up 25.9% to 1.34 lakh cars, exports rise 44%, overall increase 27.1% at 1,44,396 cars. Toyota Kirloskar Motor (TKM) sales grew 22% overall, while domestic volumes rise 21% to 10,336 units.
10.20 am IST: Meanwhile, check out how yesteryear batting maestro Virender Sehwag wished a fan's mother on her birthday.

10.13 am IST: Monthly auto sales: Maruti Suzuki posts strong January sales numbers; stock up 1.5% at Rs 5,988.
10.10 am IST: Sensex and Nifty wobble and are expected to trade with wild swings today. Trade cautiously.
10.06 am IST: Budget 2017: Finance Minister Arun Jaitley reaches Parliament. The Budget presentation will start at 11 am.
10.03 am IST: Rupee opens stronger at 67.64/$ Vs 67.86/$ on Tuesday.
10.00 am IST: BSE realty index is trading up 1.3%, PSU index gains 0.5 percent, while capital goods, consumer durables and auto indices add 0.4% each at 10 am.
9.45 am IST: Nifty and Sensex slip into the red as IT stocks, led by heavyweights TCS and Infosys, drag the indices down. US President Donald Trump is expected to sign a new executive order to tighten work visa rules.
9.40 am IST: Housing finance companies are buzzing in trade ahead of the presentation of Union Budget. LIC Housing, HDFC, DHFL, Gruh Finance, Ganesh Housing are all trading with gains of up to 2-4%.
9.30 am IST: ICICI Bank yesterday reported a 17% increase in its gross non-performing assets (NPAs) for the December quarter and the bad loan ratios worsened; gross NPA ratio jumped 1.09 percentage points sequentially to 7.91% for the quarter ended December while net NPA ratio rose to 4.35%.
9.23 am IST: Telecom stock reverse two days of uptrend after Idea Cellular and Vodafone India confirmed merger talks. Idea and Bharti Airtel trading in the red.
9.15 am IST: Markets open higher: Nifty trades 15 points higher at 8577; Sensex 37 points up at 27,690. ICICI Bank stock opens about 1.5% down at Rs 265.40
9.07 am IST: Politics of Universal Basic Income "difficult and tricky", says CEA Subramanian.
9.03 am IST: Arvind Subramanian, an Indian economist and the current Chief Economic Adviser to the Government of India, says Universal Basic Income will cost 4-5% of the GDP and it's a huge number.
9.00 am IST: Rating agency ICRA says India is expected to attract moderate FII inflows of $15 billion to $20 billion in 2018.
8.45 am IST: DBS Bank economist Radhika Rao says: "Expectations are running high for an expansive budget."
8.40 am IST: SGX Nifty (trading about 27 points higher at 8600 currently) hints at a positive opening for the Indian markets.
8.31 am IST: Budget to go ahead as scheduled amid talk of postponement after Lok Sabha member E Ahamed's death last night.
7.10 am IST: US stock markets continue to give thumbs down to president Donald Trump's immigration policies and the H-1B visa shocker. The Dow Jones Industrial Average (DJIA) closed 107 points down at 19,864 while the S&P 500 and Nasdaq ended with minor losses on Tuesday.
Proposals on personal income tax, capital gains, corporate tax rates, incentives to push digital drive, defence allocation, scrapping old vehicles and service tax will influence market movement. This will be the fourth budget by the Modi government and comes in the backdrop of assembly polls to five states.
Last year, the stock markets ended with losses after budget, while in 2015, the benchmark indices closed with gains.
Some of the stocks to watch out for in the context of Budget 2017, according to MOSL, are ITC, Hero MotoCorp, TVS Motor, M&M, Ashok Leyland, Bosch, HUL, Colgate, Dabur, Gruh Finance, Repco Home Finance, Bharat Electronics, L&T, Bharat Forge, Siemens India, ABB India, Crompton Greaves and KEC International, according to Motilal Oswal Securities Ltd.
Read: Budget to chart stock market's direction in action-packed week ahead
On Tuesday, the stock markets reacted more to the shocker from the US on likely tightening of norms for H-1B visa holders (High-Skilled Integrity and Fairness Act of 2017), resulting in a crash in IT stocks, pulling the BSE IT index down 2.96 percent though the Sensex ended 0.70 percent lower at 27,655.
"With just a day ahead of the much awaited budget presentation, investors remained caution. IT stocks' extended drop following US immigration rules added to budget blues, while FOMC rate decision tomorrow ensured that investors remained risk averse through the day," Anand James, Chief Market Strategist, Geojit BNP Paribas Financial Services, said in a note.
Profit-booking also resulted in stocks taking a hit on the eve of Budget 2017, according to Motilal Oswal Securities Ltd.
"Traders were booking profit after a rally in the market of last few sessions and taking cautious approach ahead of tomorrow's Union Budget announcement. Moreover, weak global markets are also major concern and pulled down market," the brokerage said.
Read: Sector-wise analysis and stock picks by Motilal Oswal Securities
FM pegs fiscal deficit target at 3.2% of GDP for next fiscal yr
12.47 pm IST: