Shares of Idea Cellular jumped as much as 29 percent after Vodafone Group confirmed that it's in merger discussions with India's third largest telecom operator. At the same time, shares of Vodafone Plc on the London Stock Exchange were trading 4 percent higher in early trade.
Reliance Jio vs incumbent telcos: Idea Cellular's high-speed wireless broadband to become fully operational in 2017
Any merger, if it happens, would drastically change the pecking order in the Indian telecom industry. According to a report by global brokerage house CLSA, the combined Vodafone-Idea entity would have 43 percent revenue share in the market by FY2018-19 against 33 percent of Bharti Airtel and 13 percent of Reliance Jio.
"Such a merger will help Vodafone India improve its position in the mass market, while Idea Cellular would gain from Vodafone's strength in the metro circles. Finally, the merger would create a new leader in the mobile/data industry, challenging both Bharti Airtel and Reliance Jio and further intensify the competition," CLSA said in the report.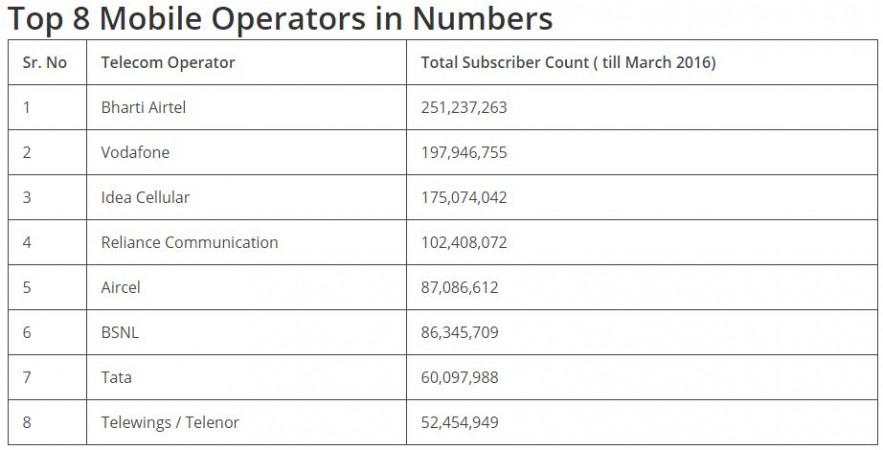 Vodafone India said the company was exploring merger plans with the Aditya Birla Group, which operates Idea, for an all-share merger of Vodafone India and Idea. However, this excludes Vodafone's 42 percent stake in Indus Towers.
The Bombay Stock Exchange (BSE) has sought a clarification from Idea Cellular on January 30 with reference to the merger news appeared in a business daily.
At the time of writing this report, any financial terms and conditions of the possible merger were not clear.
According to the most recent filing to the BSE by Idea, promoters hold a 42.45 percent stake in the telco. At around 2 pm on Monday, shares of Idea were trading at 26 percent higher at Rs 98. Shares of other Aditya Birla Group companies listed on the exchange also spurted on the possible merger talks. Shares of Aditya Birla Nuvo traded at Rs 1,455, up 6.32 percent, while Grasim stock was up 6 percent at Rs 984.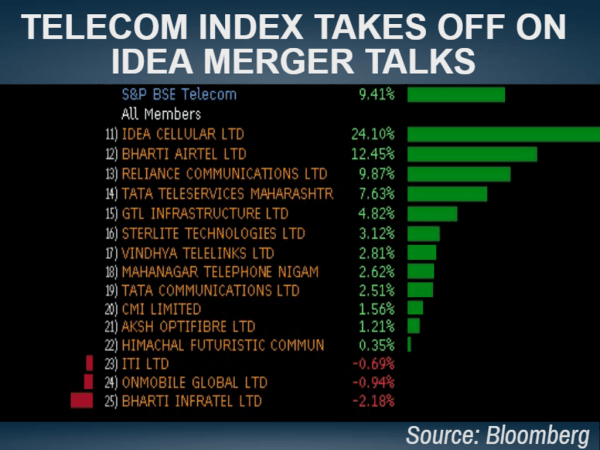 On the consolidation talks in the sector, all telecom stocks were buzzing in trade on Monday. India's largest telecom operator Bharti Airtel's stocks were up 8 percent at Rs 349, while Reliance Communication (RCom) traded 10 percent higher at Rs 34.10.
Such a deal could boost the merged entity's Ebitda by 25-30 percent, led by savings in network and SG&A (Selling, General and Administrative) costs and a lower net debt-to-Ebitda ratio at 3.3 times, according to a report by the Economic Times.