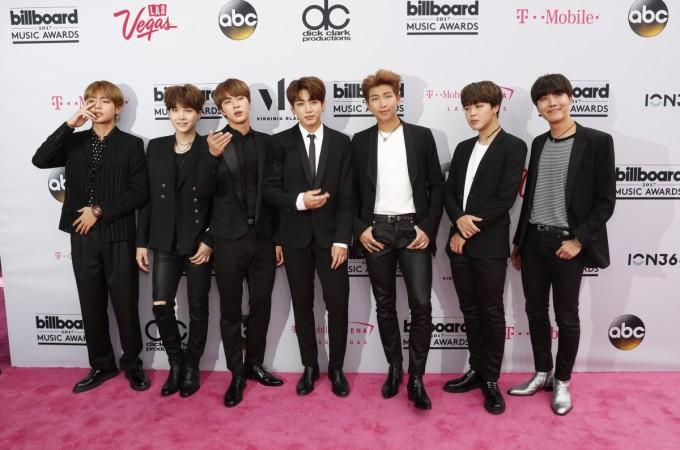 There is no stopping for South Korean boy band BTS (Bangtan Sonyeondan). After becoming the first K-pop band to perform at the Billboard Music Awards 2018 (BBMAs), the boy band has now topped the Billboard 200 music charts, making the country and the president Moon Jae-In proud.
Love Yourself: Tear topped the Billboard chart on Sunday. The latest album by BTS became the "first primarily foreign-language No. 1 album in over 12 years," according to Billboard.
Soon after BTS achieved the feat, Jae-In shared a letter congratulating the boy band and their "army" of fans on the huge achievement. Praising the band members, he said he will remember the names of all the seven members – Jin, Suga, J-Hope, RM, Jimin, V, and Jungkook – of the boy band.
Jae-In said that Korean music has gone a step forward all thanks to BTS. He also added that the band has a magical ability to turn sadness into hope.
Read the full letter of President Jae-In below, as translated by Soompi.
I express my congratulations to the seven boys who love music and the boys' wings called 'ARMY.'

Young people all over the world are comforted and find courage because of BTS' songs and dancing, dreams and passion. I congratulate you on the album Love Yourself: Tear reaching No. 1 on the United States' Billboard 200. It's the first time in 12 years for an album in a language that is not English, and the first time ever for a Korean artist.

BTS puts their sincerity into their outstanding dancing and singing. They have a magical ability to turn sadness into hope, and difference into similarity. Each of the seven members put who they are and how they live into their music, and they are overcoming location and language, and culture and institutions.

Korean popular music has made a leap forward on the world stage thanks to BTS. Through the language of K-pop music, our young people can share experiences of life and love, dreams and pain with young people all over the world.

I support BTS's dreams of reaching No. 1 on Billboard's Hot 100, winning a Grammy award, doing a stadium tour, and becoming the most influential artists in the world. I also support their fan club ARMY, who are raising their voices together with BTS towards the world.

BTS, whose name means 'We'll block the prejudices and oppression that teenagers experience.' I will now remember each of the names of the seven boys Jin, Suga, J-Hope, RM, Jimin, V, and Jungkook. As ever, this is a new start. Thank you for sharing profound emotions with our nation's people and people all over the world through your wonderful selves.

May 28, 2018.

President Moon Jae In.
"노래를 사랑하는 일곱 소년과 소년들의 날개 '아미'에게 축하의 인사를 전합니다." 세계의 젊은이들이 방탄소년단의 노래와 춤, 꿈과 열정에 위안을 받고 용기를 얻었습니다. 'LOVE YOURSELF 轉 TEAR' 앨범이 미국 '빌보드 200' 1위에 오른 것을 축하합니다. pic.twitter.com/fiimradrki

— 문재인 (@moonriver365) May 28, 2018