Brad Pitt has shocked everyone after allegedly crashing his ex-wife Jennifer Aniston's 50th birthday party. There have been rumours that both Brad and Jennifer came in contact after their separations from their respective partners, but this is for the first time when media has actually spotted something like this happening.
Brad Pitt and Jennifer Aniston were considered an epitome of love in the entertainment industry. Their love and subsequent courtship proved that to their fans that they are going to last forever. Here's a complete timeline of Brad Pitt and Jennifer Aniston, right from their first meeting to their ugly divorce.
Brad Pitt and Jennifer Aniston first date in 1998:
As per several earlier reports, Brad and Jennifer were reportedly went on their first date after being set up by their respective agents — talk about some Hollywood rom-com movie! During those days, they both tried to maintain secrecy about their romance but since at that time, Brad has his own fan/media following, the entertainment industry soon got the wind of his alleged affair with Jennifer, who at that time, had already made a name of herself by starring as Rachel Green in hit sitcom, FRIENDS.
Reflecting about their first date, Jennifer Aniston stated in 2004 that she and Brad both knew that their relationship is meant to be, and added, "That was a really easy evening. It was really fun."
Their first public appearance:
Soon after their romantic relationship got the flow, several fans and well-wishers were wondering when they will publicly get to see the couple. Brad and Jennifer fulfilled their wishes by making their first public debut as a couple on the red carpet for the Emmy Awards in 1999.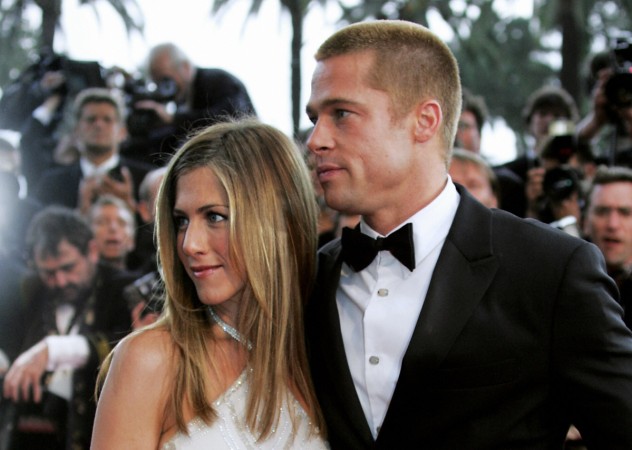 A few months later, the alleged couple even crashed a live concert in New York City. What made the String's concert more memorable for Brad and Jen's ardent followers is the latter's engagement ring, which the actress flaunted with grace and dignity.
Brad and Jennifer's grand wedding:
Right after their engagement, there were talks about an extravagant wedding happening in the heart of Malibu. Brad Pitt and Jennifer Aniston tied knots on July 29, 2000, at a lavish wedding.
Brad Pitt frequently visited Jennifer Aniston at Warner Bros. studio where she worked for FRIENDS. He never did go onto the set for fear of distracting the audience, however, he had a brilliant cameo in the show.
Brad Pitt was starred at FRIENDS' season 8 episode 9 as Will Colbert, who reveals that he and Ross Geller (David Schwimmer) were part of an "I hate Rachel" club. Due to their offscreen chemistry and media coverage, this episode of Friends titled "The One with the Rumor" fetched Brad a Primetime Emmy Awards nomination for Outstanding Guest Actor in a Comedy Series.
Brad Pitt is the love of Jennifer Aniston's life?
Back in 2003, when during an interview, Brad Pitt was referred to as the love of Jennifer Aniston's life, the acclaimed actress responded by saying:
"Is he the love of my life? I think you're always sort of wondering, 'Are you the love of my life?' I mean, I don't know, I've never been someone who says, 'He's the love of my life.' He's certainly a big love in my life...," via WMagazine.
Mr. & Mrs. Smith
Things between Brad Pitt and Jennifer Aniston went south when the former met Angelina Jolie on the set of an action-comedy movie, Mr. & Mrs. Smith. During the filming, several reports surfaced that Brad and Angelina are reportedly dating, which Angelina denied later. However, she did recall the time when she filmed with Brad and stated that during the production of the movie, they both found a strange partnership which suddenly happened.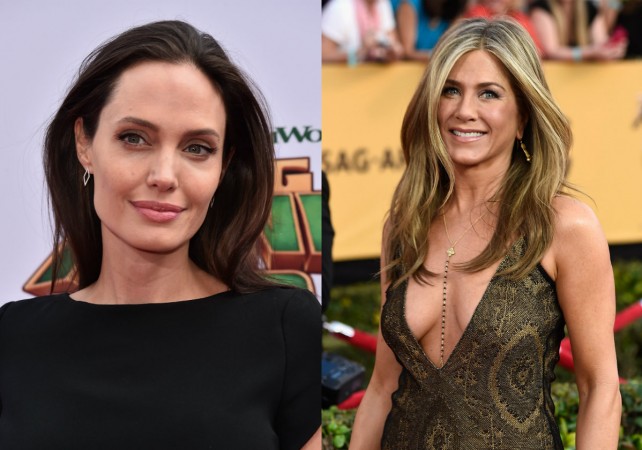 Jennifer Aniston's first separation:
Soon after the rumours of Brad Pitt and Angelina Jolie made the headlines, Jennifer Aniston and Brad decided to end their marriage. In a joint statement, the couple reflected on their friendship and stated that they have taken this decision with "much thoughtful consideration."
In October 2005, Brad and Jennifer finalized their divorce.
After ending her marriage with Brad Pitt, Jennifer Aniston chose to stay single for a long time. But finally decided to settle down with writer Justin Theroux in August 2015. By then, Brad had already gotten married to Angelina Jolie and even had six wonderful children.
Coming to present, Brad Pitt may have crashed Jennifer Aniston's 50th birthday party but that does not mean that they are now a couple. As per a report by People, Jennifer was very happy that Brad Pitt showed up for her birthday.