Ather Energy has started accepting booking for 450 and 340 in its website
Ather 450 is powered by a 5.4kW electric motor with 80kmph top speed
Ather 340 is powered by a 4.4kW motor with 70kmph top speed
AtherSpace experience centre at Indiranagar will be open for test rides from June 8
Ather Energy, the Bengaluru based start-up shot to fame with the unveiling of the S340 electric scooter prototype back in 2016. Two years down the line, the company led by two IITians – Tarun Mehta and Swapnil Jain – has launched finished the product christened just Ather 340.
Ather Energy has priced the 340 at 1,09,750, on-road. The pricing includes FAME (Faster Adoption and Manufacturing of Hybrid and Electric vehicles) subsidy, costs for insurance, GST, road tax, smart card charges and registration fee. Ather Energy has also launched range-topping variant christened as the 450 priced at Rs 1,24,750 (on-road).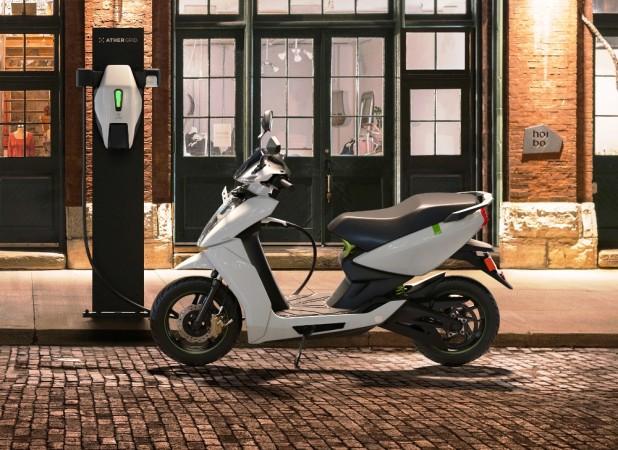 Ather Energy has opened booking for both the 450 and 340 on its website for the first lot of around 2,000 units and deliveries have been scheduled for August. The company will take order for Bengaluru customers in the first phase.
Both Ather 450 and 340 are identical in terms of styling, dimensions, features and both are offered only in white colour for now. The only differentiator between the 450 and 340 in terms of design is that the former will get a green coloured rim lining. The major differences lie in the electric motor and battery pack used in both variants.
Ather 450- The flagship variant is powered by a 5.4kW electric motor churning out 20.5Nm of peak torque. It comes with a rated top speed of 80kph and a 0-40kph sprint time of 3.9 seconds. Ather 450 also comes with bigger 2.4kWh Lithium-ion battery that provides a 75km range in a full charge.
Ather 340- The base variant is propelled by a 4.4kW motor with slightly lower 20Nm of torque. The top speed is down to 70kmph and it takes 5.1 seconds to reach 40kmph speed. A 1.92kWh lithium-ion battery stores energy in the 340 and it has the range of 60km.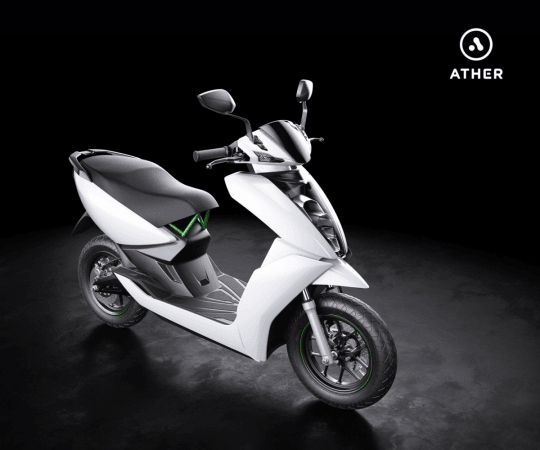 Ather Energy claims its e-scooters are designed for city riding conditions where quick charging is necessary. The company has already set up many charging points christened AtherGrid in Bengaluru. With the public fast-charging network, the company claims 80 percent of the battery of both the e-scooters can be charged in 50 minutes.
Ather 450 and 340 comes packed with a 7.0-inch capacitive touchscreen, adaptive LED headlight, GPS, over-the-air updates, charging station location tracking, custom user interface, diagnostic alerts, a parking assist function, combined brakes and others.

Ather One plan
Ather Energy claims that they wanted to offer a unique no-hassle, pricing model. In addition to the money a customer spends to buy the scooter, the company has a monthly subscription that will take care of most operational expenses.
Christened as the Ather One plan, it entitles customers to free public and home charging, regular maintenance inclusive of consumables, breakdown assistance and unlimited data services for the dashboard at Rs 700 + GST per month.
For the first set of consumers, Ather Energy will offer the first year of the Ather One plan for free. The company will also provide a home charging point with the Ather 450 and a charging cable with the Ather 340. The price of these products and their installation will be waived off for these early bird consumers.