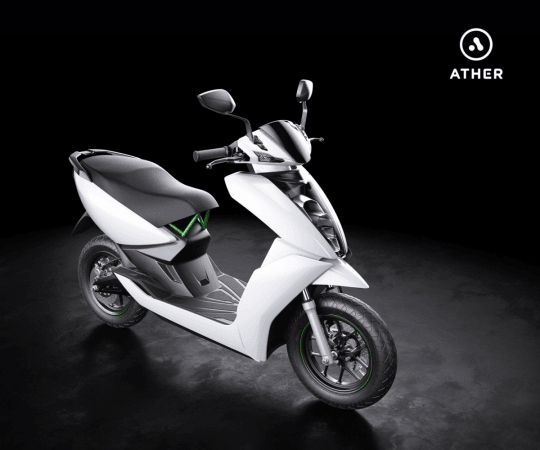 First charging station in Indiranagar area of Bengaluru
AtherGrid is open for all EVs in the city
30 charging points by the end of May 2018
Ather Energy, the Bengaluru based start-up that shot to fame with the unveiling of the S340 electric scooter, has opened its first charging station in Indiranagar area. Ather Energy calls its charging infrastructure for electric vehicles (EVs) as AtherGrid and it is open for all EVs in the city.
Ather Energy has planned to install 30 charging points by the end of May and 60 charging points by the end of 2018 in Bengaluru. The completion of the project will see charging station within 4 km driving distance from any point in the city. This is the largest charging infrastructure effort in an Indian city, Ather Energy claimed in a press statement.
Installed at malls, cafes, restaurants, tech parks, multiplexes and gyms, locations for the AtherGrid will be selected to cater to both, four-wheelers and two-wheelers. Ather has partnered with host locations, who have installed Points pro-bono at their premises to offer a convenient experience for all EV owners in the city. To improve EV ownership experience and increase adoption, AtherGrid and its accompanying app will be offered for free for the next 6 months to all electric vehicle owners. Using cloud connectivity, consumers can find the nearest point available and navigate to the charging location using the app. Remotely monitoring charge status and integrated payment options offers EV owners a seamless charging experience.

"Electric vehicles cannot become a viable alternative without making charging infrastructure availability a greater priority. It is critical for us to make public charging convenient and accessible. This is an important step towards increased adoption and acceptance of electric vehicles and in the long run will have a positive effect on the cost of the vehicles themselves. The number of entrepreneurs and businesses that have come aboard to be a part of AtherGrid is also a testament to the future of electric vehicles. As we prepare ourselves for the launch of the Ather S340, Bangalore was a natural choice to be the home city for AtherGrid. Range anxiety and the inconvenience associated with charging will not be a deterrent to adoption, as the industry grows," said Tarun Mehta, Co-founder and CEO, Ather Energy.
Ather S340
Ather Energy, the brainchild of two IITians – Tarun Mehta and Swapnil Jain unveiled the S340 as India's first electric scooter in early 2016. After the development of over two years, the S340 will hit the market soon. Ather Energy will start accepting bookings for the S340 for Bengaluru customers from June.
Powered by a lithium-ion battery pack, Ather S340 electric scooter is built around a hybrid aluminium chassis. It has a range of up to 60 km, a top speed of 72kmph and the battery can be charged up to 80 percent in 50 minutes. Ather Energy claims the battery pack of the new scooter has a life of 50,000 km. The scooter comes with a touchscreen dashboard, which integrates cloud-based data, disc brakes and LED lights that respond to ambient light conditions.