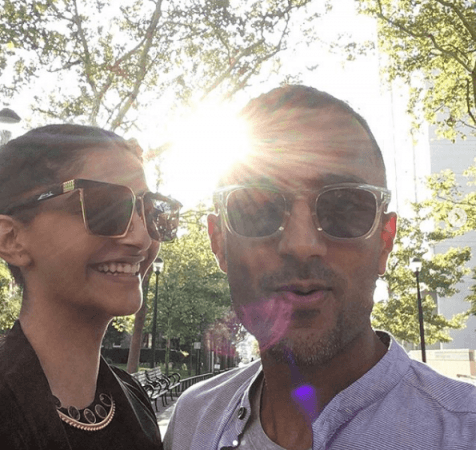 Wedding invites say mehendi ceremony will take place May 7, wedding May 8 morning and party May 8 evening in Mumbai
Dress code for all the functions – Shades of White for mehendi, Indian traditional for the wedding and Indian or Western Formal for party
After the Kapoor family made an official announcement, Sonam Kapoor and Anand Ahuja's wedding invites have now gone viral on social media. Three cards have been doing the rounds that appeared to be the couple's wedding, mehendi and party invites.
The cards look elegant and the theme is nature. According to the invites, the mehendi ceremony will take place May 7 at Sunteck, Signature Island in Bandra Kurla Complex in Mumbai, the wedding ceremonies will take place May 8 which will be followed by lunch at Rockdale 226, Bandstand Bandra and the party will take place Tuesday night at The Leela.
The marriage will reportedly take place according to Sikh traditions. There is a dress code for all the three events. For mehendi it is Shades of White, for the wedding, it is Indian Traditional and for the party, the dress code is Indian or Western Formal.
After months of speculations, Sonam and Anand's families issued a joint statement making an official announcement about the wedding.
"The Kapoor & Ahuja families, take great joy and pride, in announcing the marriage of Sonam & Anand. The wedding will take place on the 8th of May in Mumbai. Since it is an intimate affair, we request you to respect the family's need for privacy. Thank you for all your blessings and love, as we celebrate this special moment in our lives."
During the trailer launch of Bhavesh Joshi, Sonam's brother Harshvardhan Kapoor also talked about the wedding, the gifts he planned to give them, and his special dance at the sangeet ceremony.
"I am really happy that Sonam is getting married and Anand's a great guy. The wedding is on the May 7 and May 8. After that I will be concentrating on the promotions of 'Bhavesh Joshi'," Harshvardhan said.
When asked about the gift he planned to give to his sister and brother-in-law, the 27-year-old replied, "A hug...that's a joke (laughs). Lots of love. You see, I am broke. The kind of movies that I am doing, don't pay very well," a Times of India report revealed. The film's director, Vikramaditya Motwane, chipped in to add, "He will do a special dance for her at the sangeet."
Bhavesh Joshi's director Vikramaditya Motwane also revealed that he will do a special dance at the sangeet ceremony.
Meanwhile, before the photos of Sonam-Anand's "intimate" wedding take a look at the e-cards below: