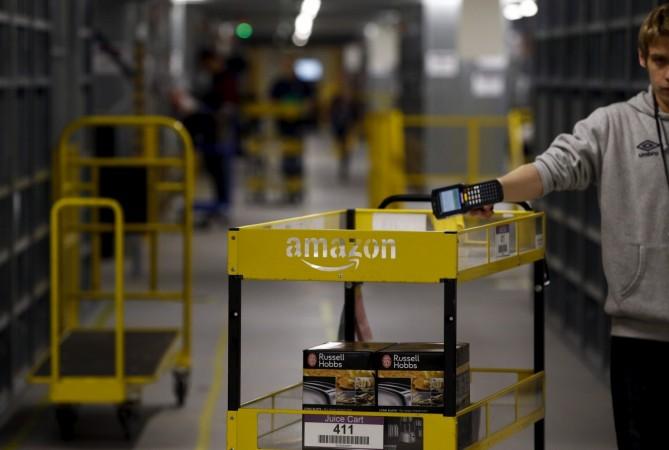 E-commerce firm Amazon India has received the single largest fund infusion of Rs 2,010 crore from its parent entity as the e-tailer plans to rev up competition with its domestic rival Flipkart.
According to a report in the Economic Times, total capital invested by Amazon in its Indian unit has gone up to over Rs 7,000 crore in the last 12 months.
"We will invest what it takes to become the customers' preferred choice in India, and are encouraged that we are India's largest and fastest-growing ecommerce marketplace," the report quoted an Amazon India spokeswoman as saying.
"In an industry reportedly flat or negative, Amazon India has continued to show remarkable growth of over 100 percent this year," the spokeswoman added.
Meanwhile, the report quoted two unnamed sources saying that the Jeff Bezos-owned online marketplace had lost over Rs 1,000 crore in October on the back of special offers and discounts.
"It is losing about Rs 600 crore every month (non-sale months)," the report quoted one of the sources as saying. Notably, the Seattle-based company is likely to burn up around $1 billion this year for its Indian unit as it aims to topple Flipkart from the top position in domestic retail market.
As per analysts, after such large scale fund infusion by Amazon, Flipkart will have to raise capital to contain increasing competition from Amazon. So far, the Bengaluru-based firm has raised around $3.4 billion to support business growth.
The Bengaluru-based company, backed by New York Investment firm Tiger Global, has raised about $3.4 billion so far. "Flipkart was in investment mode in 2015, which it has cut down in 2016. It will need to raise capital before it can start matching Amazon's spending," the report quoted Satish Meena, an analyst with Forrester Research as saying.
Interestingly, Flipkart cofounder Sachin Bansal and Ola's cofounder Bhavish Aggarwal have recently demanded policy support from the government to Indian start-ups to counter what they claim is 'capital dumping' by foreign players.