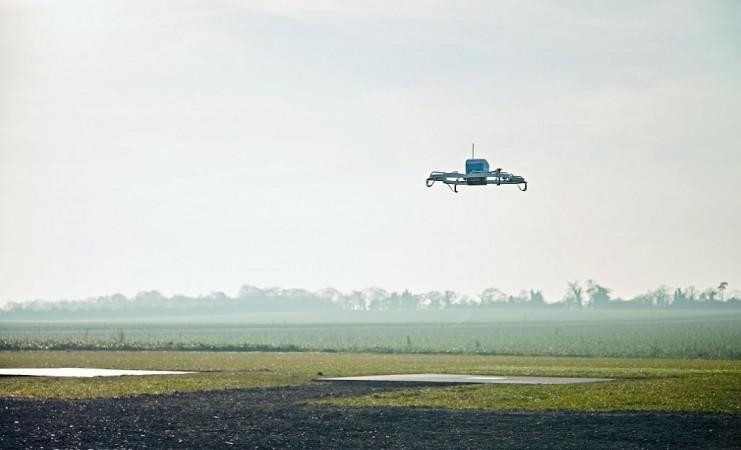 Amazon, the online retail giant has made its first commercial delivery using a drone to a British man near Cambridge in the UK, according to a statement from Amazon.
This delivery kicks-off Amazon's new drone operations, where customers will get their packages delivered to their door-step in 30 minutes or less. It took the company three years to pass all the obstacles related to regulation and general scepticism.
"First-ever #AmazonPrimeAir customer delivery is in the books," said Jeff Bezos, Amazon Chief Executive in a tweet announcing the delivery.
The first customer, identified only as Richard B received his order of a Fire TV and a bag of popcorn. The drone took 13 minutes to deliver the 4.7 pound package. The drone had to fly over the English countryside to reach the man's home, the Wall Street Journal reported.
Following the successful delivery, Amazon will be testing deliveries for two more customers near Cambridge. The city houses the company's drone-testing plant. If Amazon is able to replicate the success of the maiden flight, the facility will be expanded to fly items to other customers, in the coming months.
Amazon calls its drone delivery service Prime Air and it represents a milestone in automation, as the company looks to fortify its dominance in the online retail industry, the New York Times reported.
There are, however, limitations to such drone operations with regulations imposed by aviation laws, weather restrictions and cargo's weight limitations.
Scepticism aside, reports note that it may be several years before Amazon, or any other company, is able to conduct such operations without being blocked by US regulators.
For Amazon, the drone operations will end up helping its delivery mechanism as it lowers its logistics cost, and drones are environment-friendly as they do not emit pollutants. Moreover, Amazon customers can get their deliveries faster.
Some residents have said that the Amazon drones are a threat to wildlife, but the company has denied the accusation, even insisting on incorporating of a "sense-and-avoid" technology, which causes the drones to fly around towers, birds and other obstructions.
The drone that Amazon is currently testing is a quadcopter, which features four rotors. Quadcopters have the ability to take-off and land vertically.
JD.com, a Chinese online retailer carries out similar deliveries in rural communities in China. So, what Amazon did was not the first time a company used drones for delivery operations. Similar operations have been conducted by other companies too.
Currently, the drone delivers packages that are under five pounds (2.26kg). The drones use their cameras to identify landing-marker pads that are placed in locations that do not have any obstructions.