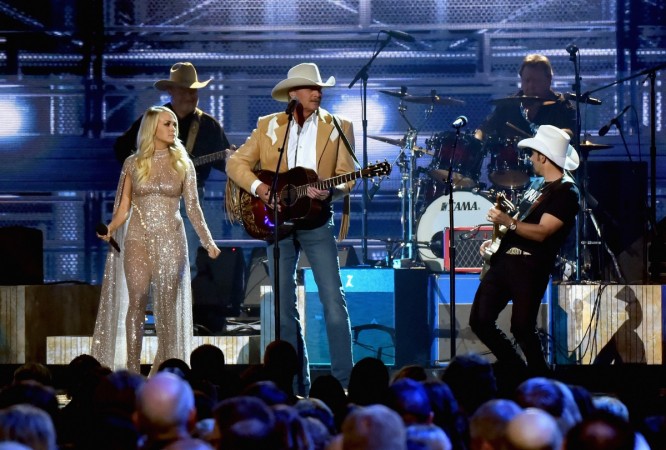 Tribute, recognition and casual political digs – there was nothing amiss at the 51st annual Country Music Association Awards show in Nashville on Wednesday.
Also read: Here's everything to know about Melon Music Awards 2017
Eric Church kicked off the night singing 'Amazing Grace' as a solemn tribute to last month's Vegas shootings at a country music festival. Followed by Hootie and the Blowfish who brought to the audience their hit "Hold My Hand." Keith Urban, Lady Antebellum, Little Big Town and many of country music's biggest stars joined in.
But the spotlight was definitely on the hosts of the show – Brad Paisley and Carrie Underwood. It was their 10th year co-hosting and the two who are known for their multiple hits together, collaborated this year to take a few political digs too.
They also addressed the recent national tragedies in a serious tone, saying:
"Las Vegas, Charlottesville, New York, Sutherland Springs, historic storms in Texas, Puerto Rico and Florida -- the list goes on and on," said Underwood. "This has been a year marked by tragedy impacting countless lives, including so many in our country music family so we're going to do with families do: cry together and sing together."
While Chris Stapleton and Miranda Lambert were honoured as the male and female vocalist of the year, respectively, Garth Brooks took home the trophy for entertainer of the year.
Taylor Swift was awarded song of the year as she wrote Little Big Town's hit Better Man. Swift is in New York City for Saturday Night Live rehearsals, which led to the band accepting the award in her honour.
As announced previously, before the broadcast of the show, late Glen Campbell won the award for the musical event of the year with Willie Nelson; and the Brothers Osborne won music video of the year for It's Ain't My Fault, directed by Wes Edwards and Ryan Silver.
The rest of the awards with the complete list of winners are as follows:
Entertainer of the year - Garth Brooks
Single of the year (Award goes to the artist, producer[s] and mix engineer[s]) - "Blue Ain't Your Color" — Keith Urban; producers: Dann Huff and Keith Urban; mix engineer: Chris Lord-Alge
Album of the year (Award goes to the artist and producer[s]) - From a Room: Volume 1 — Chris Stapleton; producers: Dave Cobb and Chris Stapleton
Song of the year (Award goes to the songwriter[s]) - "Better Man" — Songwriter: Taylor Swift
Female vocalist of the year - Miranda Lambert
Male vocalist of the year - Chris Stapleton
Vocal group of the year - Little Big Town
Vocal duo of the year - Brothers Osborne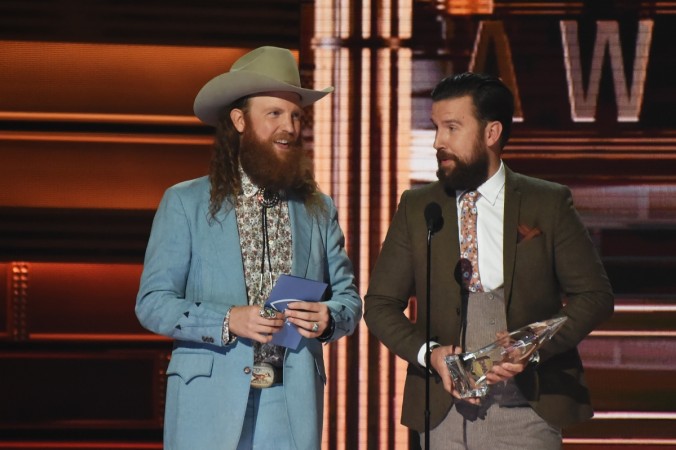 Musical event of the year - Funny How Time Slips Away — Glen Campbell with Willie Nelson
Musician of the year - Mac McAnally (guitar)
Music video of the year (Award goes to the artist and director[s]) - "It Ain't My Fault" — Brothers Osborne; directors: Wes Edwards and Ryan Silver
New artist of the year - Jon Pardi