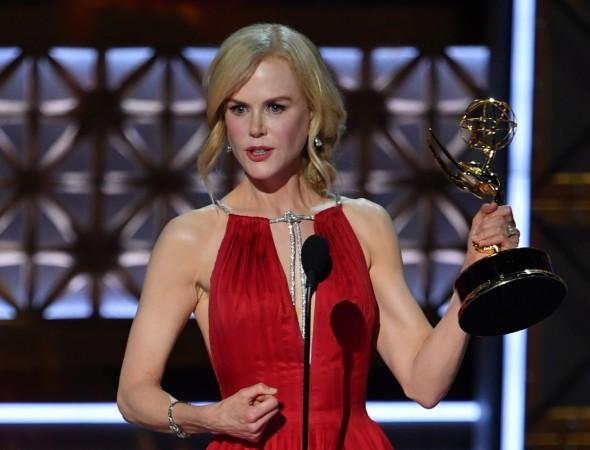 Big Little Lies made headlines after their remarkable wins at the 2017 Emmys. The HBO show won the award for Outstanding Limited Series, Outstanding Lead Actress in a Limited Series, Outstanding Supporting Actress in a Limited Series or Movie and Outstanding Directing for a Limited Series, Movie or Dramatic Special.
But it was one victory that watched Nicole Kidman rejoice more than the others. It was when Alexander Skarsgard won Outstanding Supporting Actor in a Limited Series or Movie that she seemed the happiest.
Also Read: Is this why Nicole Kidman snubbed kids adopted with Tom Cruise in Emmy speech?
Unable to withhold her joy, the Aquaman actress planted a kiss on her co-star's lips as he stood up to accept his award. This moment shocked a few fans, and apparently did not go down too well with her singer husband Keith Urban.
According to a new report by Star, the country singer is miffed with the actress over her public display of affection towards her co-star. A source claims Urban was furious with the act and made it clear to Kidman.
"Keith really laid into Nicole for 'making out' with Mr Perfect in front of millions of viewers, including their daughters," the source claimed.
"Keith blew things way out of proportion – it was just a kiss. [Kidman allegedly] spent what should've been her big night in tears," added the insider.
The stunning display of affection may have caught fans off the guard, but Gossip Cop's sources reveal that it did not affect Keith in a negative way.
The singer remained unfazed by the situation. "[He] happily applauded for Skarsgard as he accepted his award," the website wrote.
Debunking the claim that Kidman spent the night in tears, Gossip Cop also pointed out that there were numerous photos taken backstage featuring Urban and Kidman passionately kissing after her Emmy win.