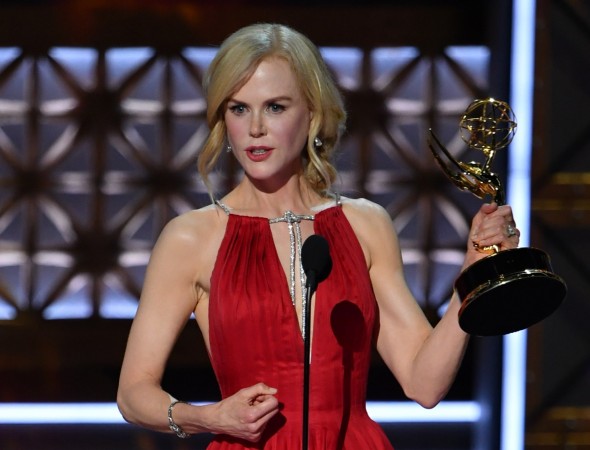 Nicole Kidman was the star of the 69th Primetime Emmy Awards. The Big Little Lies star had won Outstanding Actress in a Limited Series or Movie for Big Little Lies and walked up the stage to take the award.
Delivering her acceptance speech, the actress thanked Keith Urban and mentioned her daughters – nine-year-old Sunday and six-year-old Faith. While it was a sweet gesture, the actress ignored the other part of her family – the two children she adopted with ex-husband Tom Cruise.
Also Read: 69th Primetime Emmy Awards winners list: The Handmaid's Tale, Big Little Lies and Veep make history!
Holding the award in her hand, Kidman said, "I have two little girls, Sunday and Faith, and my darling Keith. This is yours. I want my little girls to have this on their shelf and to look at it and go, 'Every time my mommy didn't put me to bed, it's because of this. I got something!'"
For the uninitiated, Kidman and Cruise are parents to two adopted children – Isabella, 24 and Connor, 22. Fans were shocked and couldn't understand why the Aquaman actress did not mention their names in her speech.
The snub was quickly noted by fans. Expressing shock, a few reminded the actress that she had more than just two children and slammed her on Twitter.
Lol Nicole Kidman saying "I have 2 little girls.."
You have 4 kids Nicole. ?

— jac (@JackieWarner13) September 18, 2017
Are you kidding me Nicole Kidman? Mention your youngest kids but forgot the other 2?

— Edmund Bogen (@buyhousing) September 18, 2017
Fans started speculating that the Mission: Impossible actor might have restrained Kidman from speaking about them in public. Some even pointed out Cruise's scientology as a possible reason for Kidman's silence about their kids.
Nicole Kidman didn't mention her 2 older adopted kids because they refuse to speak to her because they're scientologists so jot that down

— bee (@generalantiope) September 18, 2017
Have Nicole Kidman's kids "disconnected" from her? I know that's standard scientology practice but haven't looked into it

— trudie (@mulhoIIanddrive) September 18, 2017
Nicole Kidman not mentioning her older kids was a slick move! Causes people to ask why, starting a convo about cults disconnection policy.

— Agape (@Agape275Agape) September 18, 2017
Cruise is known to be a scientologist and the two adopted kids are also believed to be following the same practices. According to ex scientologist Leah Remini, the controversial church has the practice of forbidding contact with people whom they disapprove.
"Many believe that Isabella and Connor are no longer permitted to have any contact with Kidman," AOL writes.
This could be the reason why Kidman decided to be tight-lipped about her adopted children.
If that wasn't all, the internet also went haywire when the Australian actress got up to smooch her Big Little Lies co-star Alexander Skarsgard when the presenters announced he won the Emmy for Best Supporting Actor in a Limited Series or Movie. The move also drew criticism from the fans.