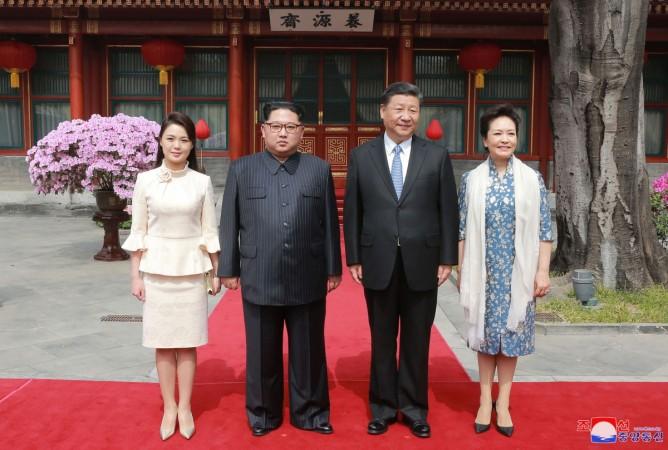 While North Korean leader Kim Jong Un has already visited Beijing thrice this year, Chinese President Xi Jinping hasn't visited the reclusive nation yet. This is now set to change as the Chinese president is reportedly scheduled to visit Pyongyang in September to attend the 70th anniversary celebration of North Korea's founding.
The anniversary celebrations are set to take place on September 9, and this is being seen as a possible date of Jinping's Pyongyang visit, reported Singapore's Straits Times. The president had earlier been invited by Jong Un to attend the celebrations.
However, neither China or North Korea has confirmed the visit and the officials are yet to speak on the matter.
If the plan does materialise, this will be Jinping's first visit to Pyongyang since he came to power in 2012. The last Chinese leader to visit the neighbouring country was Hu Jintao, Jinping's predecessor, in 2005.

While North Korea may not have maintained ties with other nations in the past, it has been a close neighbour of China, especially in the last few months. Kim Jong-un had not left North Korea since he took charge as the supreme leader of the country on December 17, 2011, but he broke that pattern and when he secretly visited China on March 26.
Leaving the world shocked, an old-style armoured green train was seen rumbling into Beijing on March 26, afternoon, fuelling speculations that Jong Un was on his first official foreign trip. While it was thought that the train brought senior North Korean officials to China, sources later told Bloomberg that the train carried Jong Un himself.
Even though Chinese officials initially said that they were not aware of the visit, Jong Un and Jinping did make a public appearance later. It was even revealed that Jong Un's wife Ri Sol-ju had accompanied him in the trip.
China- North Korea relations
China is North Korea's main ally, but the ties had weakened for a while due to Pyongyang's nuclear programme. China also came under the scanner after US spy satellites, at the end of December, spotted Chinese tankers selling oil to North Korean ships on the West Sea.
It was said that Beijing had sold oil to Pyongyang about 30 times between October and December despite the US and the UN imposing sanctions on the reclusive nation.
The satellites captured several images of North Korean and Chinese ships gathering close together to trade oil, reported South Korea daily The Chosun Ilbo.
After the images surfaced online, Trump lashed out at China and said he was "very disappointed." He explained that finding a solution to the conflict would be very difficult if China intended to support North Korea's trade on the sly.
"Caught RED HANDED - very disappointed that China is allowing oil to go into North Korea. There will never be a friendly solution to the North Korea problem if this continues to happen!" he had tweeted.
Even though North Korea has now pledged to shut down its nuclear programme, the US and UN sanctions are still in place until the denuclearisation is complete. And this week, the US imposed sanctions on a few Chinese firms for exporting alcohol and cigarette to Pyongyang in breach of those sanctions.