North Korea has irked several nations in the world with its nuclear programme and persistent ballistic missile tests. After the nation and its leader Kim Jong-un have refused to back down despite several warnings, the United Nations has imposed numerous sanctions on the reclusive nation, including ship-to-ship trades.
However, US spy satellites have now spotted Chinese tankers selling oil to North Korean ships on the West Sea about 30 times since October, even though the sanctions were put in place in September.
The satellites have captured several images of North Korean and Chinese ships gathering close together to trade oil, reported South Korea daily The Chosun Ilbo. Not just that, the images reportedly also show the names of the ships and one of them, connected to a Chinese ship to receive oil, has been identified as Rye Song Gang 1, which was sanctioned on November 21.
Speaking of the latest spy images, a government source told the South Korean daily: "We need to focus on the fact that the illicit trade started after a UN Security Council resolution in September drastically capped North Korea's imports of refined petroleum products."
China is said to be the main source of oil for North Korea and is known to have several trade deals with Pyongyang. And while the spy images show Beijing's vessels trading oil with Pyongyang, data from the General Administration of Customs released on Tuesday said that China had cut off all deals with North Korea since the sanctions.
As per the data, China did not export oil, including jet fuel, gasoline, diesel or fuel oil, to North Korea in November, marking the second straight month of no exports, reported Reuters. The Chinese customs data also said that Beijing did not import coal, iron ore, or lead from Pyongyang in the month as part of the sanctions.
"This is a natural outcome of the tightening of the various sanctions against North Korea," Reuters quoted Cai Jian, an expert on North Korea at Fudan University in Shanghai, as saying. This move "reflects China's stance", he added.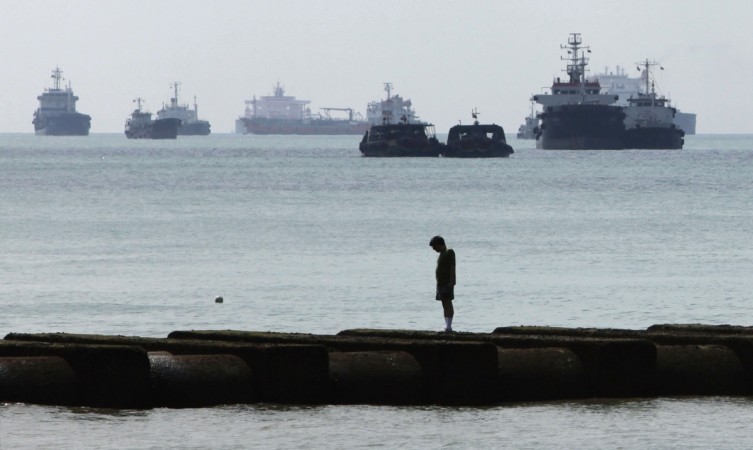 Adding to it, a spokesperson for the Chinese Foreign Ministry explained that China fully adheres to the sanctions imposed by the UN and has already worked out its trade details. "As a principle, China has consistently fully, correctly, conscientiously and strictly enforced relevant U.N. Security Council resolutions on North Korea. We have already established a set of effective operating mechanisms and methods," Hua Chunying said.
Pyongyang has been slapped with several sanctions since it tested a hydrogen bomb on September 3 and the US too has taken a similar stance when it comes to Pyongyang's activities. The nation also has sanctioned two North Korean officials Kim Jong-sik and Ri Pyong-chol. The duo is said to be the "key leaders" of North Korea's ballistic missile programme. Under the new sanctions, any transaction carried out by Jong-sik and Ri will be blocked and their American assets, if any, will also be frozen, reported BBC.
The latest sanctions by UN involve a ban on exports of North Korean goods, and its citizens working in other countries being asked to return home within 24 hours among others.