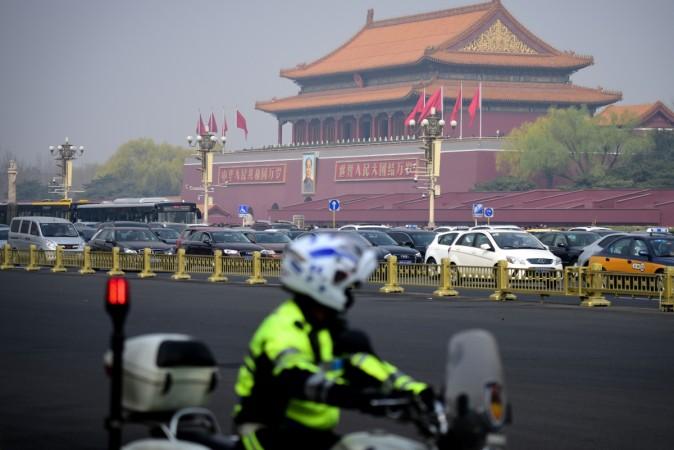 Kim Jong-un has not left North Korea since he took charge as the supreme leader of the country on December 17, 2011. However, he seems to be finally breaking that pattern and is reportedly on a secret visit to China.
An old-style armored green train was seen rumbling into Beijing Monday, March 26, afternoon, fuelling speculations that Jong-un is on his first official foreign trip. While it was earlier said that the train brought senior North Korean officials to China, sources told Bloomberg that the train carried Jong-un himself.
Japan's Nippon News Network also said that the green train with yellow horizontal lines was similar to the one used by Jong-un's father Kim Jong-il who visited Beijing in 2011. Heavy security has also been witnessed near the Diaoyutai State Guesthouse in Beijing, which is known to have hosted quite a few senior North Korean officials in the past.
However, other details of the visit such as who Jong-un will meet or where he will stay are yet to be revealed. Neither Beijing nor Pyongyang has spoken about the visit and South Korea, which usually monitors North's activities, too seems to be in the dark.
"Our government is thoroughly monitoring the situation and related movements while closely communicating with the concerned country," CNN quoted the South Korean foreign ministry spokesman as saying.
The Chinese foreign ministry also said that it "not aware of the situation," and did not know who was visiting.
Meanwhile, the US also has said that it was not informed of any such visit and Raj Shah, a spokesman for the White House, said that the US did not "know if they're necessarily true." He also said that the US was looking forward to the meeting between president Donald Trump and Jong-un, which is likely to take place by the end of May.
Relations between China and North Korea
China is North Korea's main ally, but the ties have, of late, weakened due to Pyongyang's nuclear programme. China also came under the scanner after US spy satellites, at the end of December, spotted Chinese tankers selling oil to North Korean ships on the West Sea.
It was said that Beijing had sold oil to Pyongyang about 30 times between October and December despite the US and the UN imposing sanctions on the reclusive nation.
The satellites captured several images of North Korean and Chinese ships gathering close together to trade oil, reported South Korea daily The Chosun Ilbo.
After the images surfaced online, Trump lashed out at China and said he was "very disappointed." He explained that finding a solution to the conflict would be very difficult if China intended to support North Korea's trade on the sly.
"Caught RED HANDED - very disappointed that China is allowing oil to go into North Korea. There will never be a friendly solution to the North Korea problem if this continues to happen!" he had tweeted.