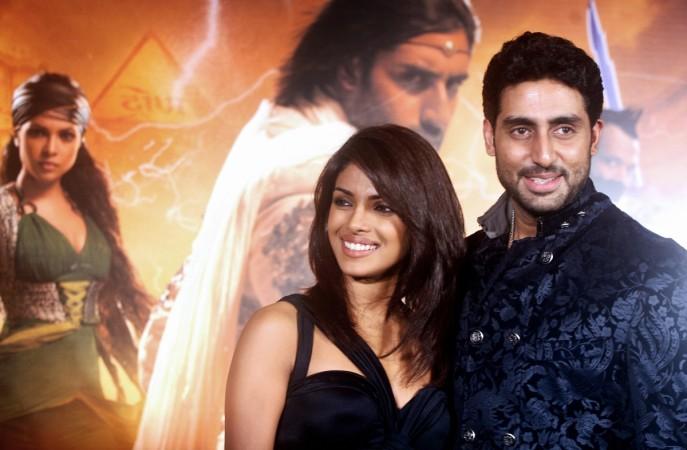 Quantico actress Priyanka Chopra is back in Bollywood for some time and is looking to do some Hindi films. According to a report by Deccan Chronicle, she is considering to do Shonali Bose's movie and Shonali wants to pair Abhishek Bachchan and Priyanka. But the actress reportedly doesn't want to agree as she has a history with Abhishek.
During the days of Bluffmaster, Abhishek and Priyanka were showing each other the cold shoulder. Aishwarya Rai was supposed to play the female lead in Bluffmaster but was replaced by Priyanka Chopra. Since that time, Aishwarya and Priyanka haven't been very fond of each other.
Although Abhishek and Priyanka worked in Dostana, they have refused to do films together. Recently, Priyanka had opted out of Sanjay Leela Bhansali's biopic film on Sahir Ludhianvi because Bhansali wanted to give Abhishek a titular role.
Shonali's film is a mother-daughter story and since the father's role is negotiable, Priyanka will surely take this one.
Priyanka has also signed for Salman Khan's Bharat. She will reunite with Salman on screen after 10 years. Talking about movies that she will be doing, the actress told an international magazine, "I've finished up two films: A Kid Like Jake, which comes out in June. And isn't it Romantic? Which comes out Valentine's Day 2019. I play a spoiled rich woman who is a yoga guru, which is not a thing. [Bharat] is the Indian movie I signed this year. It's the quintessential Bollywood movie, which I haven't done in many years. A lot of them were dramatic and thematic. This one's going to be out and out entertainment. I'm excited! I haven't been back to do a movie in two or three years now."
Abhishek Bachchan has also wrapped up shooting in Kashmir for Anurag Kashyap's Manmarziyan, which also stars Vicky Kushal and Taapsee Pannu. The film is set to release in September.