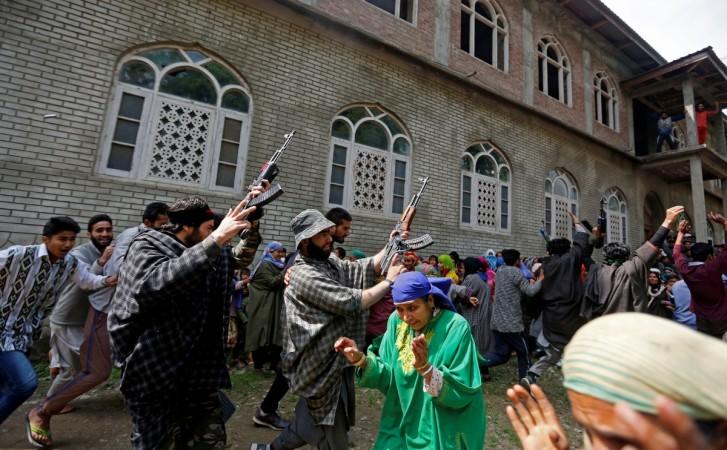 A video which might explain the levels of deep-rooted sentiment against India in Jammu and Kashmir has gone viral on the internet where the family of an alleged militant is in conversation with a few security personnel.
Although it could not be ascertained where the video was shot, the militant's family refuses to heed to the advice of a security personnel who asks them to convince their son to shun violence and come back.
"We will not do that. We will never tell him to come home. He has chosen his path. If he has taken a decision, it must be right," a woman believed to be the militant's sister is seen telling the security men.
One of the security persons tells the family, "If you people motivate him, only then he will surrender, he will never do it if we ask him to. If we catch hold of him tomorrow, we will take you along to convince him."
The sister of the militant in turn replies, "But we will never want him to do that. If he escapes alive, I will kill him so that he becomes a martyr."
The security personnel asked them how can they kill their own son when he is a part of their family.
"He might have gone astray, fought with you people and picked up the gun," said the armed forces personnel.
The militant's family replies that there was no such fight at home and that he wished to adopt this path.
"He is free to do so," they say.
The security personnel ask the reason of militants like him to pick up the gun to which the family question the armed forces " Why have you picked the gun?"
"It is for the protection of our country," they say.
The militant's sister replies, "He picked up the gun in the way of Allah so that he dies a martyr. You people will kill him and he will die for Allah, which is what pleases him."
Lately, many phone conversations between militants and their families have also gone viral on the internet. Surprisingly, it is either the father or brother of the family who seems to be agreeing with their family member's choice of dying.
The new trend picked up after the death of top Hizbul Mujahideen commander Burhan Wani in 2016. His father, a school headmaster, had expressed no sorrow over his demise.
"If I had other sons, I would tell them too to fight for this cause," Burhan's father had reportedly said.
A Hizbul Mujahideen militant, Aitmad Hussain Dar, an MPhil scholar, who was killed in April this year dialled his family for the last time when he was trapped inside a house in South Kashmir's Shopian district.
The audio of an emotional phone conversation also went viral on social media where Aitmad was heard seeking forgiveness from his father if he failed to fulfil a son's duties.
Ironically the father supports his son's decision and asks him if there is an escape route. But when the son says they cannot run away, the father asks him not to surrender before the police.
In May, an Assistant Professor of Sociology, Muhammad Rafiq Bhat, was killed although he had joined the militant ranks only a day before.
Despite attempts made by the Superintendent of Police Shopian who brought Bhat's family to the encounter site at Shopian, Bhat refused to surrender and was killed.
In February, Eisa Fazili, a young Engineering student was killed while he was fighting the troops. His father, Naeem Fazili, an educationist was the first person to break the news of his son's death to the world. Naeem posted on Facebook, "As per reliable sources, my son Eisa Fazili has left for heavenly abode. Innilillahi wa innaillahi rajioon! ( To Allah we belong and to him, we will return)."