Queen Maxima of the Netherlands is in India on a four-day visit in her capacity as the UN Secretary-General's Special Advocate for Inclusive Finance for Development. She met Indian Prime Minister Narendra Modi in the national capital of New Delhi on Monday, May 28, after visiting Yuri Afanasiev, the local coordinator and representative of the UN.
She discussed several issues with the UN representatives and also gave a short speech.
Later, Modi and the Dutch royal are said to have discussed a number of financial initiatives taken by the Indian government in the last few years right from the Jan Dhan Yojana, Pradhan Mantri Jeevan Jyoti Bima Yojana, Pradhan Mantri Suraksha Bima Yojana, and Atal Pension Yojana.
"Queen Maxima appreciated the progress achieved by these initiatives," IANS quoted the Prime Minister's Office as saying.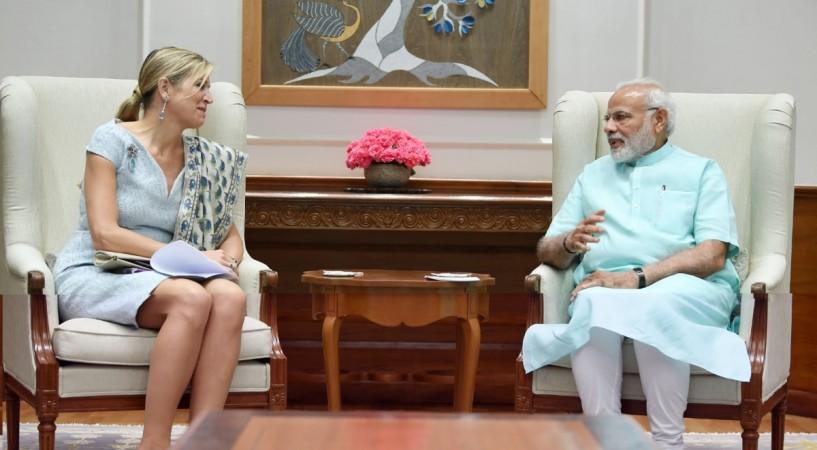 "Queen Maxima appreciated India's efforts in this direction, through the Indian Technical and Economic Cooperation (ITEC) scheme and provision of concessional Lines of Credit for development projects abroad, based on the host government's requirements and priorities."
The Dutch royal looked like she was in good spirits and looked radiant in a baby blue sleeveless dress paired with metallic heels, despite the scorching New Delhi heat. She was later seen wrapping up in a printed pashmina.
Who is Queen Maxima?
Born Máxima Zorreguieta Cerruti on May 17, 1971, in Buenos Aires, Argentine, Queen Maxima is the wife of King Willem-Alexander of the Netherlands.
She is the first Latin-American born queen-consort in the Netherlands.
She is a descendant of King Afonso III of Portugal and other noble families of the Iberian Peninsula in the southwest corner of Europe.
Máxima is said to have met Willem-Alexander in April 1999 in Seville, Spain, and their relationship blossomed over the next several months.
The couple announced their engagement on March 30, 2001, and the duo tied the knot in a civil ceremony on February 2, 2002.
The royal couple has three children – Catharine-Amalia, Princess of Orange, Princess Alexia, and Princess Ariane.
As the Queen of Netherlands, Máxima supports the head of the state when it comes to formal duties and other activities that may be taken up for the people of the nation.
She also represents the Royal House at official occasions
She was appointed as UN Secretary-General's Special Advocate in 2009 in an advisory role.
Queen Maxima has been awarded several national honours and also hold honours in foreign countries such as Grand Cross of the Order of Merit in Chile, Grand Cross of the Order of National Merit in France, Sash of the Order of the Aztec Eagle in Mexico and Grand Cordon (Paulownia) of the Order of the Precious Crown among several others.