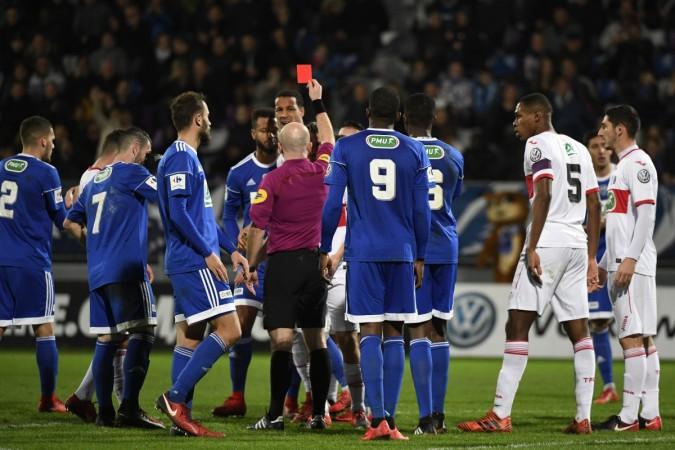 Remember that very infamous football World Cup match between Portugal and Netherlands in 2006 where the referee Valentin Valentinovich Ivanov of Russia showed a total of four red cards and 16 yellows?
Portugal won the match 1-0 but the 'Battle of Nuremberg' forever remained one of the biggest indisciplined matches in the history of football.
Fast forward to more than a decade and we have come across one football match in Brazil where the disciplinary record of the Battle of Nuremberg got completely shattered and destroyed.
A Brazilian league encounter between Vitoria and Bahia saw the referee Jaílson Macedo de Freitas reaching his pockets to show the players a total of ten red cards in the match as well as eight yellow cards. Phew...take a breather!
Vitoria vs. Bahia in the Brazilian league was abandoned after 10 red cards and eight yellows, most of which picked up in a mass brawl...

Bahia tweeted after the game that their goalscorer was sent off for ''headbutting the opponents' fists''

Scenes. pic.twitter.com/qu9Sj9tf3x

— Coral (@Coral) February 19, 2018
The match had to be abandoned with 11 minutes remaining in the clock. The score remained 1-1.
Vitoria got front in the match after Denilson drew first blood, but Vinicius equalised in the second half via a penalty. It was his celebrations moments later in front of the home fans, that sparked a mass brawl.
Vitoria goalkeeper Fernando incited the violence and punches started flying in and the physical battle soon transcended from the field to the stands. Ironically, Fernando was not shown the red card!
Also, ironically, the football match was billed as the "Peace Derby", according to ESPN.
Check out the video from the match