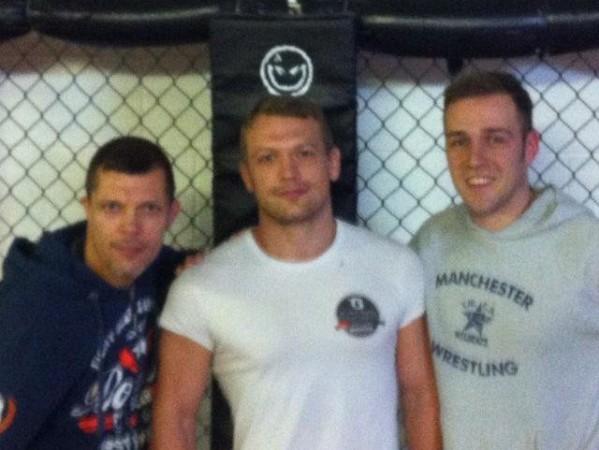 Ian Entwistle is not a very familiar name among Mixed Martial Arts (MMA), fans but the 29-year-old Englishman is slowly starting to make his way up the ladder. The UFC bantamweight fighter, also a former soccer player with Rochdale, Bury and Wigan, took time but finally decided to embrace the combat sport as he personally felt he was achieving better results.
Not someone who runs away from new challenges, Entwistle, who made his UFC debut back in 2014 and has just three fights in his octagon career so far, goes into probably his biggest challenge so far as he takes on Mexico's Alejandro Perez at UFC Fight Night 86 this Saturday, headlined by a heavyweight clash between Ben Rothwell and former champion Junior dos Santos in Zagreb.
Prior to that, in an exclusive tête-à -tête with International Business Times, India, Entwistle looked back on his career so far, his journey as an English footballer, his transition to the world of MMA and also the one thing he fascinated by in Asia. Excerpts:
IBTimes India: What inspired you to take up the sport of MMA?
Entwistle: A combination of things, really. I found that the first time I did it, I was really good at it. Then one day, my coach landed up at my house and offered to train me free twice a day. The fact that I was good at the sport obviously helped. [My hero] Michael Bisping (UFC fighter) lives about 5 minutes away from me. I was seeing everything he was achieving and that inspired me.
IBT India: What are your thoughts on UFC A-lister Conor McGregor?
Before I answer this, I have to say I have a lot of respect for Conor McGregor. He's on a path everyone wants to be, and I think that's where he gets a lot of stick. However, Conor is very much a champ.
You have finished all your fights in the UFC in the first round. What goes on in your head from the moment the referee declares the fight on?
Honestly, when I come out to fight, I come out to express myself. It doesn't make any difference how long the fight goes on. I'm a finisher, and if someone gives me a chance or a window to do something, I take it.
How effective has your football career been for your MMA career?
Yeah, you know, I've always said if you can play football, you can fight. Fighting's all about coordination, and if you can play any sport at a high level, you can fight because fighting is a coordination sport. Yes, you've got to have the heart and yes, you've got to have the ability and the mind. But, it is a physical activity, the same as any sport. It's just the hand-eye coordination. And if I can kick a football coming in from a cross at 30mph, I can certainly kick someone when they're standing still.
You've been in Thailand for Muay Thai training. How do you see the interest in MMA around Asia?
It's big in Asia, you know. I wouldn't just say training Muay Thai but some of the best MMA gyms in the world are in Asia. Phuket Top Team has world-level wrestling coaches, has Olavo Abreu who's a BJJ black belt and they had gone to the Abu Dhabi tournament. They have amazing strikers like Nonsai Sor Sanyakorn and Lerdsilla who are the striking coaches, but honestly I would say Asia has the best gyms in the world, not only for Muay Thai but also for MMA.
Any message to MMA enthusiasts in India who want to make it big but don't have the launch pad?
While I've said they're lucky to be in Asia, I would also recommend they get themselves enrolled to the Phuket Top Team, which is certainly one of the best gyms for me in the world.
Finally, not many English fighters have made it big in the UFC. What can you do to change that?
A lot of problems with English fighters in the UFC is they get taken down and led on, they get outwrestled and end up getting pinned. As you've seen when I fought Anthony Birchak in my last fight [in December 2015], he took me down and that's not what he wants to do in my world.
I don't believe I am able to be pinned. I believe I've got the best ground game in the UFC and I hope that time will prove me right.