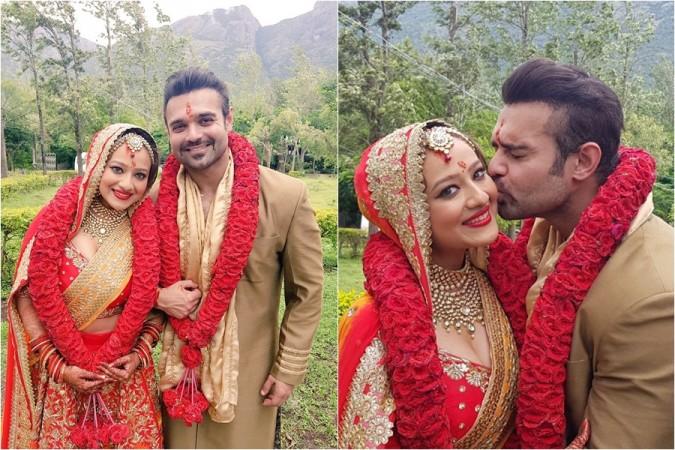 Actress and model Madalsa Sharma tied the knot with Mithun Chakroborty's son Mahaakshay aka Mimoh in a close-knit ceremony on July 10 at the actor's lavish hotel in Udhagamandalam (Ooty) in Nilgiris district of Tamil Nadu.
The wedding was supposed to take place on July 7 but it was postponed due to an FIR, filed against Mimoh by a Bhojpuri actress who accused the former of cheating and raping for over four years on the pretext of marriage. Mimoh and his mother Yogita Bali were granted anticipatory bail by a Delhi court on July 7 in connection with the rape case.
While most of us know enough about Mahaakshay, his career and family background, let's unwind some lesser known facts about his new bride and long-time girlfriend Madalsa Sharma.
Who is Madalsa Sharma?
She is the daughter of film producer and director Subhash Sharma and actress Sheela Sharma who has worked in films like Hum Saath Saath Hain and Ghatak.
She always wanted to be an actor and to turn her dream into a reality, she decided to enroll herself in Kishore Namit Kapoor Acting Institute to take acting lessons. She learned dancing from ace choreographers Ganesh Acharya and Shiamak Davar.
She has acted in films across different languages like Hindi, Tamil, Telugu, Kannada, German and Punjabi. She was last seen in Rajeev Khandelwal starrer Samrat & Co in 2014.
She got engaged in a low-key ceremony at Mimoh aka Mahaakshay Chakraborty's house in March, 2018 after dating for the past three years.
Her family had known Mimoh's family for a long time and they have also worked together on several occasions.
She and Mimoh decided to get married after their respective families took a call on their relationship, they decided to get married. It's an 'arrange-cum-love marriage'. Her wedding was attended by family members and close friends.
Her marriage with Mimoh was registered on July 7 only after the latter was granted bail in the rape case. They had a small celebration and later got married on July 10. Mimoh's mother-in-law had extended her support and raised questions on the complainant's intentions for making such accusations just before the wedding. The Bhojpuri actress, who claimed to be in relationship with Mimoh since 2015, also alleged that she was forced to undergo a miscarriage.
Meanwhile take a look at Madalsa Sharma and Mahaakshay aka Mimoh's wedding pictures.