Music director, singer and actor Himesh Reshammiya stunned his fans when he announced about his marriage with live-in partner and actor Sonia Kapoor Friday, May 11. But do you know that this is not his first marriage? Himesh was previously married to Komal and they ended their marriage in 2017.
So who is Komal? Things to know about Himesh's first wife
Komal reportedly married Himesh when she was 21 years old. She was hardly seen in the spotlight with her husband when they were married.
They were married for 22 years before they filed for divorce in 2016 due to lack of compatibility. At that time, both said that the decision to file for divorce was mutual. In 2017, they officially got divorced. They have a son, Swaym, together.
After their divorce, Himesh said that Komal is still a part of his family. "Me and Komal have amicably decided to part ways legally as husband and wife and there is no problem whatsoever with this decision amongst us and our family as every member of the family have respected our decision and yet Komal is and will always remain a part of our family and I will always be a part of her family," the singer said in a statement in 2017.
It was reported that Himesh's extramarital affair with actress Sonia was the reason behind his divorce with the first wife. However, Komal clarified the reports and said Sonia should not be held responsible for her divorce.
"Nobody else should be dragged into this matter and nobody else is responsible for this and the reason for our marriage not working is only and only compatibility. Sonia is not responsible for this at all and our son Swaym and our family loves Sonia just like a family member," Komal said.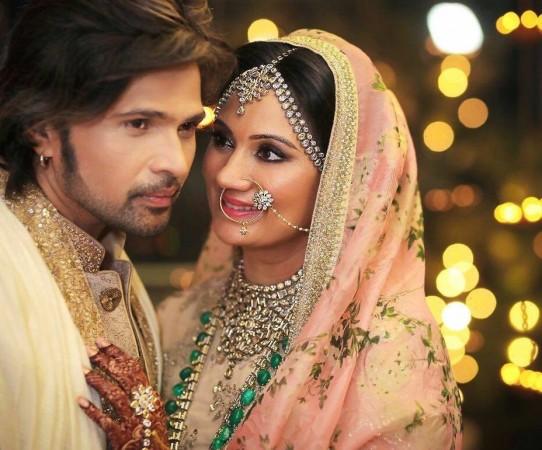 The couple tied the knot May 11 in a secret ceremony. Himesh said that the marriage ceremony was held at his residence and it was a last-minute plan.
"The marriage ceremony will be held at my home tonight. We plan to throw a party for our friends in the film fraternity later. Since tonight offers an auspicious mahurat, we decided to go ahead. It was a last-minute plan. The lagna time is 1.30 am. Considering the odd mahurat time, we haven't invited any of our friends to the ceremony," he told Mid-Day.