In recent days, you must have come across a bunch of people yelling into their phone's microphone either for ammo or help. If not that then the social media is abuzz with chatter about an online multiplayer game called PUBG – short for PlayerUnknown's BattleGround (no one really says this). Either way, PUBG is a name that anyone must have come across at least once.
But that's not the case with the chairman of Mahindra Group, Anand Mahindra, who tried to quench his curiosity by asking the question "what on earth is PUBG?" Well, the simple explanation to is that it is a multiplayer online battle royale game where 100 players fight against each other by picking weapons on the ground and the last survivor wins.
Since Mahindra posted his question on the micro-blogging platform, Twitter, there were many answers, which conveyed the message in the most humorous way possible.
Before we get to those witty responses, here's how Mahindra came across PUBG reference. His busy schedule may not allow him to be as involved as we are with the real world trends, but for someone who says "I try to keep abreast of the latest happenings in the world," being unfamiliar with PUBG is a major oversight.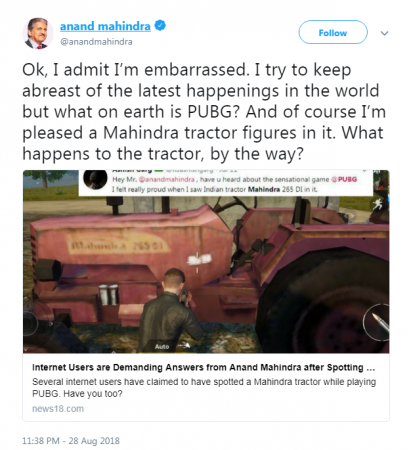 Nevertheless, PUBG players in India found a way to get Mahindra's interest spiked about the viral multiplayer game when the iconic Mahindra tractor was spotted by many. What next? Discussions led to debates and some users tagged Mahindra asking for some clarification on how the Indian branded tractor made it to the most viral game in recent times.
Sadly, Mahindra did not have an answer to what the Indian tractor was doing in PUBG. Better yet, he hit back with his lack of knowledge about the game, which is when Twitter users decided to familiarise the chairman of one of the largest corporations to PUBG by China's Tencent Games.
Its a game people keep playing while blaming govt. for joblessness.

— Prem Doshi (@StocksResearch) August 29, 2018
It's a game where the gamer uses guns and grenades in the game while their parents use sticks,chappals,belts and all other sorts of weapons on them in reality???

— VIVEK (@_i_am_vivek) August 29, 2018
PUBG's popularity is growing by the day. The developers of the mobile version of the game recently revealed that it has players from more than 200 countries with US and India topping the list. PUBG Mobile has also garnered more than 100 million downloads and has 14 million daily active users, which is pretty interesting.
While spotting the tractor almost instantly got Mahindra's interest towards the game, it remains unclear if the chairman of Mahindra Group decides to check out the game. If he does, we are keen to know how many "chicken dinners" he can score.