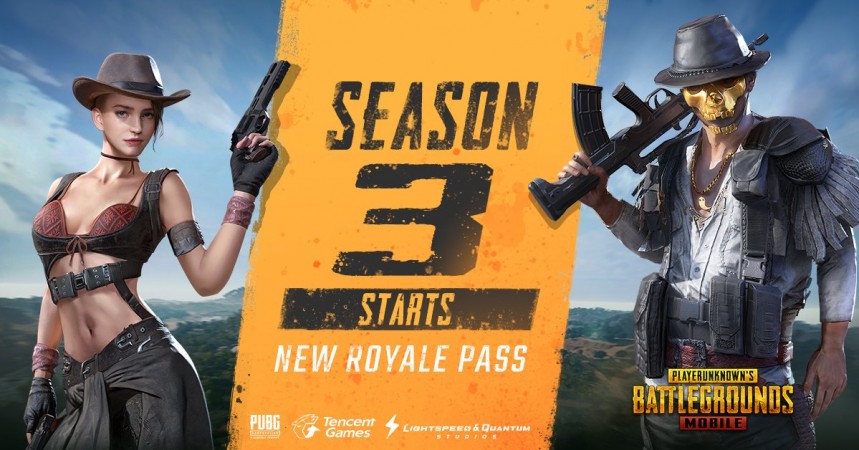 PUBG Mobile is the latest sensation in the mobile gaming world and one of the best battle royale games out there on the Android platform. With new phones capable of handling GPU-intense games launching every other day, PUBG Mobile is soaring to new heights and there's some incredible news for all the gamers out there.
PUBG Mobile Season 3 is live on Android and iOS platforms, but it comes with a new Royale Pass. It means those who had Season 2 RP must purchase the new Royale Pass for 600 UC for the Elite variant and 1800 UC for Elite Plus. Also, players' Season 2 RP points, data levels and leaderboards will be reset.
PUBG Mobile developers Tencent Games and PUBG Corp have a reputation of rolling out regular updates to the game to keep its players hooked. While the release date of PUBG Mobile Season 3 is unclear, it is expected to arrive as early as this week considering the Season 2 has already come to an end.
The confirmation of PUBG Mobile Season 3 came from the game's official Twitter handle on Tuesday when it shared a brief trailer, which was followed by a Season 3 poster. In the trailer, we can see gold weapon skins,outfits, masks and new emotes that can be unlocked as a part of the Royal Pass.
But that's not the best part. PUBG Mobile Season 3 will most likely introduce a new map. That's right! So, if you've mastered both Erangel and Miramar and like a new landscape, prepare yourselves to play in the dense forests of the Amazon and South East Asia in an all-new Sonhok map.
PUBG players must be familiar with Sonhok map on PC, but including it in the game's Season 3 on mobile devices adds a refreshing experience especially at crucial times such as Fortnite's debut on Android platform. Sonhok on PUBG Mobile is likely to arrive with 0.8.0 update soon.
PUBG Mobile's new season could win some players and help retain the existing user base as the game's biggest rival Fortnite has made its debut on Android. Fortnite's Android version is currently available on select devices, and the sooner PUBG Mobile Season 3 goes live, the better it is to continue its popularity and dominance.
For those who love rewards, PUBG Mobile Season 3 rewards for free users include
175 - daily missions (25/day, 7/week)
70 - daily login points (10/day, 7/week)
240 - weekly normal missions (6/week valued at 30 per mission)
100 - free for completing 10 missions a week.
If you're an Elite Royal Pass user, you'll get one extra:
320 - Elite Missions (4/week valued at 80 per mission)
PUBG recently revealed that it has garnered more than 100 million downloads and hosts 14 million daily active users. The developers are also reportedly working on PUBG Lite to attract more players who haven't been able to download and play the game due to limitations of their phone's specs.
PUBG Lite will have a smaller map, lesser real-time players among other changes so the experience of battle royale game isn't botched down with heavy graphics on a low-end smartphone.