Mohammed Shami and his older brother Haseeb Ahmed denied all allegations made by Hasin Jahan against them and their family during questioning Wednesday, April 18, Kolkata Police have said.
Shami, who had stayed back in Kolkata after his Indian Premier League (IPL) franchise Delhi Daredevils' away game against Kolkata Knight Riders on Monday, April 16, was interrogated for more than three hours over allegations of domestic violence, adultery, and rape made by his wife Hasin Jahan.
Police questioned Shami on various issues, including his trip to Dubai where he reportedly met a Pakistani model named Alisbah. Jahan had alleged that her husband and the woman "did dirty things" during their stay in Dubai.
Jahan's allegations are false, say Shami and his brother
Joint Commissioner of Police (Crime), Pravin Tripathi revealed that they had recorded their statements and that both Shami and his brother rubbished all claims made by Jahan. He also added they might question the fast bowler's mother and sister-in-law, who have also been named in Jahan's FIR, later in Uttar Pradesh.
"We have recorded their statement and they claimed that all the charges made against them by Jahan is false. We are exploring all allegations including the Dubai part. We have not yet decided whether to take the statement of Pakistani girl Alisbah," Tripathi said, as quoted by News 18.
"Our investigation is on and soon Shami's mother and Ahmad's wife will be questioned. Our team will go to Uttar Pradesh to record their statements. Their names are also in FIR," he added.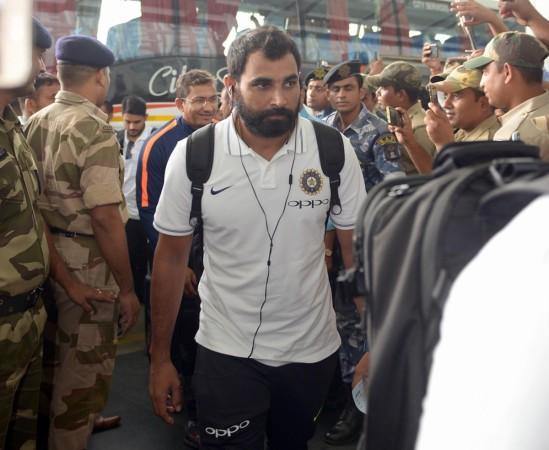 Ahmed had arrived at the Lalbazar police station Wednesday earlier than Shami and both of them were separately taken to the detective department wing for questioning, according to The Times of India. Both of them then spoke to Tripathi before leaving the police station without facing the media.
Notably, this was the first time Shami was interrogated ever since Jahan filed a complaint at the Lalbazar police station in March. The former Kolkata Knight Riders cheerleader relentlessly accused Shami of adultery, domestic violence and even claimed he had forced her to get intimate with his brother.
An FIR, under several non-bailable sections, including an attempt to murder and rape, was filed against Shami and four of his family members.
Shami can continue playing in IPL: Police
Meanwhile, Tripathi added Shami has been given the go-ahead to continue playing in the IPL for the Daredevils. He is expected to join the Gautam Gambhir-led unit in Bengaluru for their away against Royal Challengers Bangalore on Saturday, April 21.
The JCP also said Shami's passport was not seized but they might call the cricketer for questioning again if needed.
"There is no restriction. He can continue with rest of the matches but he will be examined again. We have not seized his passport," Tripathi said.