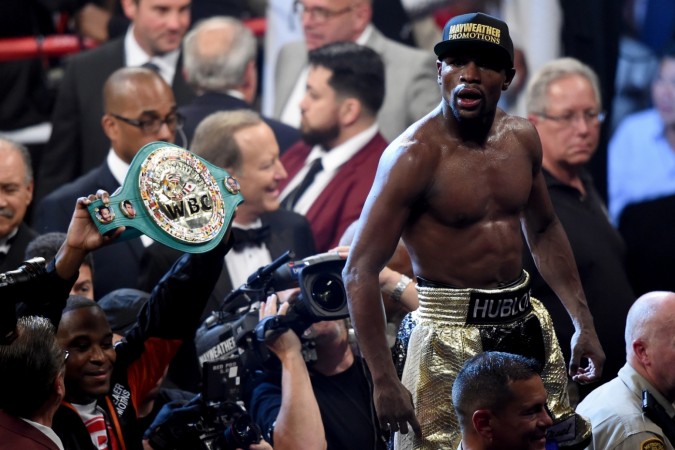 As the battle between professional boxer Floyd 'Money' Mayweather and the UFC has turned out to be an ongoing saga, Conor McGregor and Ronda Rousey have launched their latest tirade against the 48-0 boxer.
While it remains only a fantasy as of now to see Mayweather square off with either Rousey or McGregor in the Octagon, the verbal wars are heating up nevertheless.
In the latest attack, coming from the UFC interim featherweight champion of the world, McGregor, Mayweather has been referred to as a "baby". The Irishman has also mentioned that Rousey and he can "dismantle" the American boxer in seconds.
"I'd also jump in and box Mayweather. 100 percent. What do you think would happen?" McGregor told British daily Guardian, as he lauded Rousey, who has challenged 'Money' to a fight.
McGregor also added that it will be difficult for him to get a win against the boxer in the ring, but in the Octagon, that won't be the same.
"Yeah, [he would beat me in boxing]. But in a real fight I would dismantle him in seconds. Ronda would dismantle him in seconds -- 100 percent," the 'Notorious' said.
"When you don't know how to grapple, you don't stand a chance. For us, it's like playing with a baby. People who don't understand the sport cannot understand how vulnerable they are. There are always clinches, and Ronda is a judo Olympian. She would throw Floyd on his head in a second. Me? I would knock him out. Cold," he added.
The Irishman - who will face defending UFC featherweight champion Jose Aldo on December 12 (UFC 194) - has also gone on to say that a potential "cross-style" fight between Mayweather and him can generate half a billion.
"If you're talking about a fight that could generate half a billion – it's this one. There's never going to be another boxing fight like this. Only a cross-style match between Mayweather and me could generate that kind of interest and revenue. I would certainly be up for it. I am capitalising on every single opportunity. It's a strong word, one of my favourite words: capitalise. I'm ready to capitalise on everything," McGregor stated.
UFC women's bantamweight champion Rousey has also stated the same, by saying that in a "no-rules fight", she can beat anyone, even Mayweather.
"In a no-rules fight, I believe I can beat anyone on this planet. Boxing is a sweet science with strict rules that I respect very much and aspire every day to improve at. But you said ruleless fight, and that's my honest answer," Rousey answered a fan question during a Reddit "Ask me anything" session.
So what has the undefeated welterweight boxer got to say to all these?
"I'm in the $100 million business, not the $100,000 business," Mayweather was quoted by Bloody Elbow. "I shouldn't even be stooping to certain levels, because it doesn't make any sense."
'Money' even recounted an incident involving UFC President Dana White. "I can remember, I think you can go back to the beginning, to day one of my career, my first fight. My uncle Jeff Mayweather and I, that's when Dana White used to work for us. He used to be with us. When nobody else knew who Dana White was before, when he was a little square white guy, before he cut all his hair off and became a 'tough guy' in the MMA. He used to run around with me. Nobody would wear his patch and I said I would do it for free. Showed him love and I'm proud of him. I'm proud of how far he has come," the boxer stated.