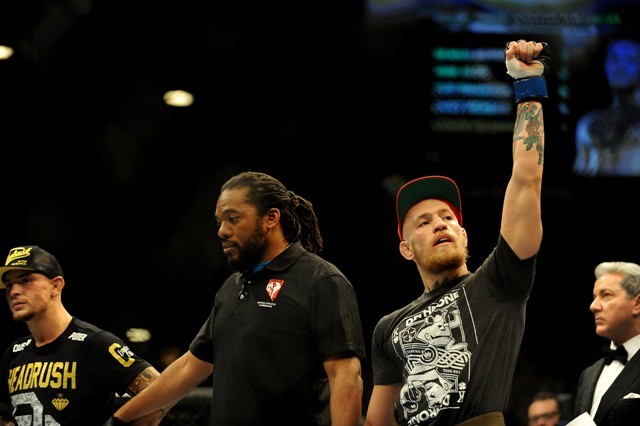 UFC Featherweight fighter Conor McGregor doesn't seem to backtrack from the statements he made in April with regards to decorated boxer Floyd Mayweather.
The Irishman, nicknamed "The Notorious", has once again gone on to say that he is ready to face the No. 1 pound-for-pound boxer in the world today. While it would be next to impossible for the richest man in sports to convert to mixed martial arts (MMA), McGregor wouldn't have a problem switching to boxing to lay his hands on the undefeated American pro boxer.
"If you're asking would I like to fight Floyd Mayweather -- I mean, who would not like to dance around the ring for $180 million?" McGregor said at the Conan O'Brien's show, ahead of his UFC 189 showdown with Chad Mendes on 11 July.
"I certainly know he [Mayweather] would not want to step into my world. The world of pure unarmed combat where there are no limitations, but I most certainly would step into his world. I would certainly box him if the opportunity arose. Most certainly."
The UFC fighter had earlier stated that he has the ability to kill the WBC, WBA, WBO, and Ring welterweight champion in less than 30 seconds. "It would take me less than 30 seconds to wrap around him like a boa constrictor and strangle him," McGregor said.
McGregor, who is a former National Boxing Champion in the amateur level, also states that Mayweather has no opponent left to fight against following the dream fight against Filipino pro boxer Manny Pacquiao in May this year. The boxing bout in Las Vegas was the richest pay-per-view in the history of sports, and was termed as the 'Fight of the Century'.
Although Mayweather won the bout after 12 rounds via an unanimous decision, McGregor feels that the boxer has no fighting flair left in him. The Irishman also mentioned that he hopes to fight Mayweather, and he believes that a fight featuring an illustrious boxer and a MMA fighter would be lapped up by the fans of both the sports.
"There's no real fight in boxing left for Floyd anyways," McGregor said. "After the Manny fight happened, there's no more real draws. If you're looking for a fight that would generate interest, it must be a cross and match up different styles.
"I've said it before, I don't think boxing is the style of fighting that can beat Floyd but saying that there are many, many forms of fighting that can beat him.
"If we were to get it on, I would most certainly dismantle him, also," McGregor added.
Mayweather has an unparalleled boxing record of 48-0. Following his fight with Pacquiao, the American said that there is only one more fight left in him. However, Mayweather's opponent in the ring has still not been decided.
McGregor, meanwhile, has to get his focus back on his Octagon clash with Chad Mendes for the interim UFC Featherweight title. Champion Jose Aldo was initially set for the fight with the No. 1 contender McGregor, but the former had to pull out owing to a rib injury, and he was replaced by Mendes.