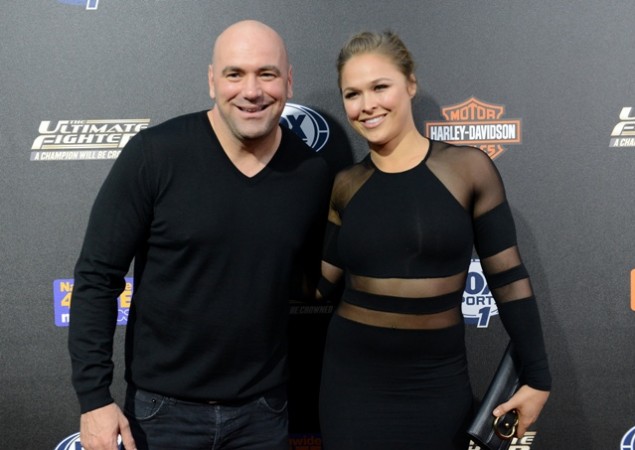 The UFC have stepped up to the defence of current UFC Women's Bantamweight Champion 'Rowdy' Ronda Rousey after unbeaten pro boxer Floyd 'Money' Mayweather took a dig at her just yesterday.
The boxer, who has an enviable 48-0 record in his professional boxing career, mentioned that he hardly knew who Rousey is, and also questioned whether she will be able to make the amount of money he gets to earn from his fights.
The statement comes in just days after Mayweather announced that he is set to go face-to-face with former World Champion Andre Berto in the so-called last professional fight of his career.
While equalling the 49-0 record of boxing legend Rocky Marciano is in his sights, Mayweather, who has been more vocal of how rich he is, is set to pocket at least $32 million through the fight.
On Ronda Rousey, he said: "A while back I didn't know who Ronda Rousey was, so I'm pretty sure she got upset." Mayweather referred to her comments on him at the ESPY awards last month.
"I've yet to see any MMA fighter, or other boxer, make over $300 million in 36 minutes," Mayweather, said on ESPN's SportsCenter.
"When she can do that, then call me."
The boxer involved money in his comments, and that did not go down well with Rousey's company, and UFC on their part took a sarcastic dig at the American boxer.
With a reference to Ronda Rousey's first-round wins in as many as five of her previous title defences in the Octagon, UFC said that she didn't need to go through 12 rounds of fight (as in boxing) to show her dominance.
It all started with the 38-year-old boxer using the words - "I don't know who 'she' [Ronda Rousey] is." - in an interview last month.
Not only did he refer to the female fighter as a masculine being, Mayweather also didn't seem to show any kind of interest in the UFC.
Rousey - who won her last fight at UFC 190 -- on her part waited for the perfect moment to give a befitting reply. After winning the ESPY (Excellence in Sports Performance Yearly) Award last month, she took a dig at the boxer's infamous history of domestic violence.
"I wonder how Floyd [Mayweather] feels being beaten by a woman for once," Rousey said. "I'd like to see you pretend to not know who I am now!"
For now, it doesn't seem to stop here. With UFC now getting involved in the war of words, the bad blood between the UFC fighter and the pro boxer is set to continue.
To what length? Only time will tell.