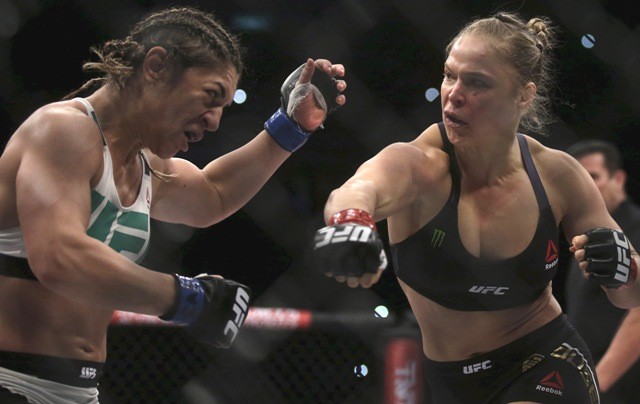 'Rowdy' Ronda Rousey didn't just play around casually when she landed those hard rights and lefts on Bethe Correia in the main event of UFC 190 on Saturday at the HSBC Arena in Rio de Janeiro, Brazil.
The UFC women's Bantamweight Champion of the World had deep-angst against her Brazilian opponent for the latter's reference to her deceased father prior to the fight, and the American was seeking retribution.
Rousey did exactly that on the main event of the pay-per-view by knocking Correia out in 34 seconds of the first round. And the powerful right hook hogged the limelight this time, rather than her armbar submission. Her tribute to the late 'Rowdy' Roddy Piper was paid.
"You don't see women knock women out like that," UFC President Dana White told Fox Sports 1. "She can do it all. Ronda just gets better every time she fights. Ronda is an absolute beast."
Reactions poured soon enough for the best pound-for-pound women's mixed martial arts fighter from the entire sporting fraternity as well as celebrities, and fans.
Serena Williams and Mike Tyson are the two names Rousey has been compared with.
So what's next for the UFC champion?
Moments after the UFC 190 main event, Miesha Tate – the No 1 contender for the Bantamweight title, as confirmed by White – posted this image on Instagram -
Rousey had earlier mentioned that she wanted to face Miesha for one final fight, before starting shooting with Mark Wahlberg in a movie for about eight-ten weeks at Thailand "or wherever we decide to film and prep for a month".
UFC Chairman Lorenzo Fertitta also confirmed to Los Angeles Times that he is seeking to place Rousey-Tate together with [UFC Featherweight fighters] Jose Aldo and Conor McGregor on a card "that would be expected to shatter UFC live-gate and pay-per-view records".
While a third battle between the two Octagon queens is definitely in the offing, the other name doing the rounds as a potential challenger for Rousey is Cris 'Cyborg' Justino.
It is a dream of a fight for UFC fans all over the world and also for White, who did mention that he wants 'Cyborg' to cut down to 135 pounds for the fight to take place.
Cyborg is the current Invicta FC World Featherweight Champion and she weighs in at 145 pounds – unlike Rousey, who battles at the 135-pounds division.
"I'm prepared to deal with anything, that's why I'm the champion. I fight in the UFC, in the 135-pound division," a confident Rousey was quoted by ESPN.
A verbal attack was already launched by the UFC queen as she mentioned: "I prefer someone who makes weight and doesn't do drugs," Rousey said on Fox Sports 1. "The fight's there for 'Cyborg.' She can make 145 pumped full of steroids. She can move down to 135 without 'em. I'm not going anywhere."
And this is what the Invicta FC champion had to say -
As for Cyborg, White said, "she didn't make the weight yet."
"The day ['Cyborg'] makes the weight and does what she wants to do, that fight's on," White said. "You think I don't want that fight to happen? I think that fight does 2.5 million [pay-per-view] buys. She needs to compete at that weight, and then she can come right here and fight Ronda."
Cyborg has 14 wins from 16 fights in her MMA career.