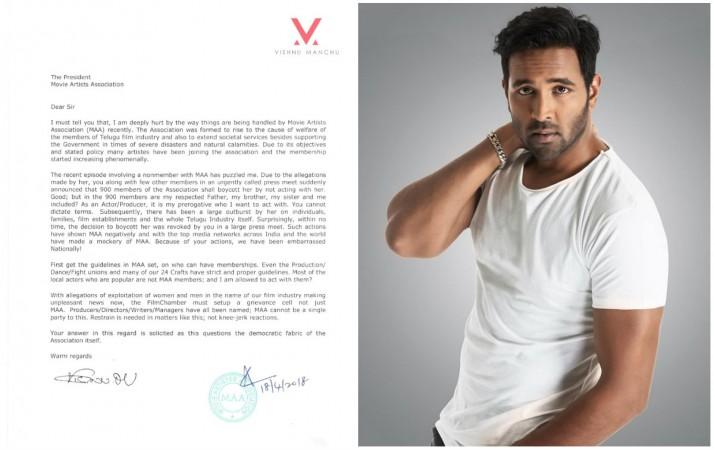 Telugu actor Vishnu Manchu has sent a letter to the MAA (Movie Artist Association), expressing his displeasure about its recent knee-jerk action against actress Sri Reddy and banning actors working with her.
In his letter, Vishnu Manchu insisted that the need of the hour is to set strict membership protocols and establish a grievance cell. He wrote, "I am deeply hurt by the way things are being handled by the MAA recently. The Association was formed to rise to the cause f the welfare of the members of Telugu film industry and also extended societal services besides supporting the Government in times of severe disasters and natural calamities."
Hours after Sri Reddy held a nude protest against the casting couch in Tollywood, some members of the MAA held a press meet and rejected her application for the membership in the Association. They also warned that if any actor works with her, he would be suspended from the Association. While these decisions were widely criticised by media and public, most of the people in the industry kept mum on the issue.
Actress Lakshmi Manchu, who is known for raising her voice for women, was also one among the celebs, who remained silent on the MAA decision. She was trolled by the filmgoers on social media for her silence. However, the MAA revoked its ban, after NHRC sent a notice to the government on the sexploitation in Tollywood. More than a week after this, Vishnu Manchu has shot off a letter to the Association.
In his letter, Vishnu Manchu stated, "The recent episode involving a non-member with MAA puzzles me." The actor alleged that such decision has put the respectful association in a bad light with media and millions across the world. He added, "Because of your decision we have been embarrassed nationally."
Vishnu Manchu went on to state that like 24Crafts production/Dance/Fight unions, the MAA must set right the guidelines on who can have memberships. The Film Chamber must set up a grievance cell to address sexual harassment and MAA alone cannot be a single party to this. The actor added, "Restraint is needed in matters like this, not knee-jerk reactions."