Virat Kohli has once again come into the news and this time it is courtesy Australian pacer, Pat Cummins, who believes that the Indian captain will not keep quiet like he has said prior to his departure to Australia.
In a pre-departure press conference on Thursday, Kohli had said that he would not look out for verbal pleasantries anymore as, with maturity, he has found non-confrontational ways of focussing on his batting.
A couple of Aussie pacers, though, do not seem in the mood to take the Indian captain at face value. After retired pacer Mitchell Johnson's instigating tweet the other day, now Pat Cummins does not seem to believe Kohli can live up to his words.
"I think I heard him say in the media the other day he won't [sledge], but I'll be surprised if he doesn't," Cummins told Fairfax Media.
"He's so competitive, he really thrives on that."
Perhaps, Cummins did not watch the media interaction first-hand for he seems to have missed out on Kohli's comments saying that it is the Aussies who start the talking, and the Indians have not shied away from reciprocating.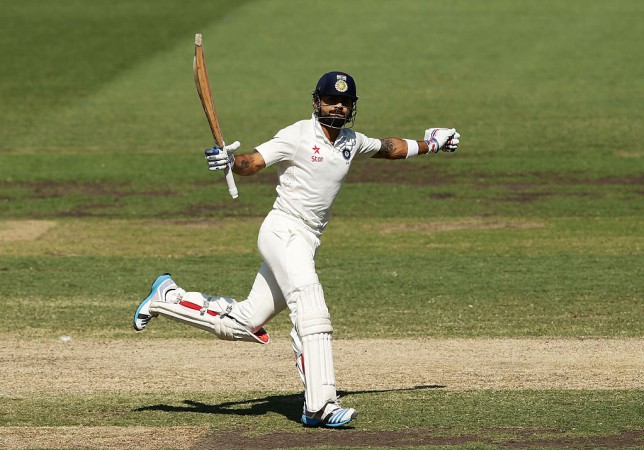 Cummins also said that the Australians will hold their ground under Indian attack but believes that this series will not be as fiery as the 'brain fade' series in India two years back.
"We'll hold our ground, we're going to be competitive and all those things. We wouldn't treat him differently to any others. I think you'll see a lot of passion from both sides but nothing super fiery like we saw against India a couple of years ago," he added.
South African captain Faf Du Plessis has advised Australia to give Virat Kohli the 'silent treatment' but even with lips sealed, Kohli has scored heavily against both, the Proteas and then England, a few months later.
Cummins, though, says that they haven't discussed any plans as a unit yet, but personally for him, it is more about bowling a batsman out than talking him into a dismissal.
"It might be something to talk about once we get the Test squad together, and talk about how we want to play and our plans for individual batsmen," Cummins said.
"To be honest, I do what works best for me. It's getting myself fired up or getting myself focused, it's more getting the best out of myself than trying to put a batsman off or anything."
Kohli will look to continue his run feast as he aims to end India's famine on foreign shores in the Test Series beginning on December 6 following the three-match T20I which starts in two days' time.