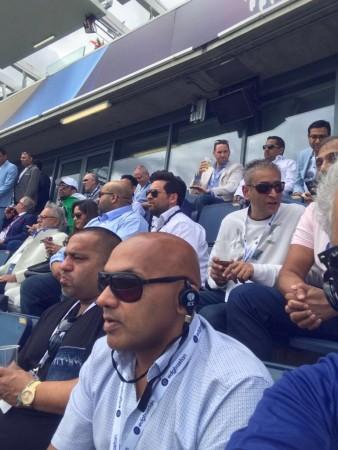 Liquor baron Vijay Mallya, who is wanted in India for several cases, including Foreign Exchange Regulation Act (1995) violation and non-repayment of loans, was spotted at the Edgbaston Cricket Ground in Birmingham on Sunday, June 4, where the India-Pakistan match was held.
Pictures showing the business tycoon sitting in the stands wearing an off-white coat are being shared widely on social media.
Vijay Mallya: The rise and fall of the Indian industrialist arrested in London [Infographic]
Another photo being circulated on social media shows the owner of the now-defunct Kingfisher Airlines with former Indian cricketer Sunil Gavaskar. Mallya was wearing the same white coat and the duo was looking at Mallya's phone.
The 61-year-old industrialist, whose company owes Rs 9,000 crore to a consortium of 17 banks, had fled from India last year. He was arrested in London by the Scotland Yard on April 18 "on an extradition warrant" on behalf of the Indian authorities. Mallya was produced before the Westminster magistrate's court who granted him bail three hours after his arrest.
India has been pushing for Mallya's extradition since last year. UK Prime Minister Theresa May had recently met Indian Finance Minister Arun Jaitley when he was in Britain, and the two are believed to have discussed, among other things, the arrest of Mallya and his possible extradition to India.