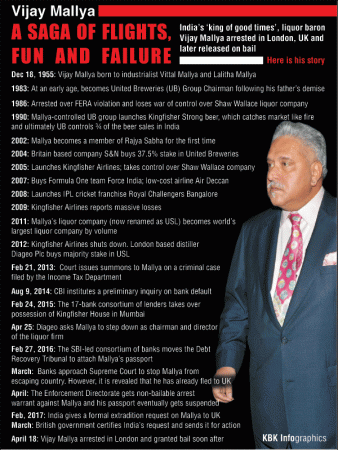 In December 2012, amid a brewing financial and operations crisis at his ailing Kingfisher Airlines (KFA), industrialist Vijay Mallya donated 3 kg gold at the Tirupati temple, ostensibly to propitiate the Lord of Seven Hills. The effort proved futile on Tuesday (April 18) — fifty-two months later — when he was arrested in London by the local police on the basis of India's request to pursue charges of money-laundering and cheating lenders. Coincidentally, the news of his arrest came a day after the Supreme Court cracked the whip on another defaulter, Subrata Roy, chief of Sahara Group.
KFA's flying licence was terminated in the same month (December 2012) by the Indian civil aviation regulator, two months after it was temporarily suspended following uncertainty about its commercial viability.
Sixty-one-year-old Mallya's arrest will be seen as a significant success for Prime Minister Narendra Modi in the fight against tax evaders and money launderers.
Here, we take a look at events that marked the downfall of the controversial businessman who lived life in the fast lane. He was spotted many a times in company of glamorous models and actresses, some of whom posed in bikinis for his super-sexy Kingfisher calendars.
February 2012
Three months after income tax authorities de-froze KFA's bank accounts after part-payment of service tax dues, some of the full-service carrier's overseas flights were cancelled. Matters worsened in the next few months, with employees protesting against delayed salary payments.
September 2012
In the third week of the month, even as his group companies were holding their annual general meetings (AGMs) under his chairmanship, Mallya failed to secure a Rs 200 crore lifeline from banks for the beleagured KFA, exacerbating matters further. Instead, he was asked to work out a revival plan by SBI Capital Markets and Securities and report within a month.
The next month KFA declaring partial lockout after unsuccessful attempts to persuade striking employees, prompting the aviation regulator to temporarily suspend KFA's flying licence. But a last-minute agreement between the employees and the management saw the strike being called off.
November 2012
Mallya decides to sell 53 percent stake in his flaghship company United Spirits Ltd. (USL) to British liquor firm Diageo for over $2 billion, a case of selling the family silver. This, amid KFA facing uncertainty and bankers refusing to come to its rescue.
December 2012
KFA's flying licence becomes a thing of the past, as the Directorate General of Civil Aviation (DGCA) refuses to renew it.
February 2013
Plot thickens for Mallya, with the Special Court for Economic Offences, Bengaluru issuing summons on the basis of a criminal case filed by the income-tax department for failure to remit tax deducted at source. By the end of the month, bankers initiate moves to recover loans worth Rs 7,500 crore from KFA.
July 2014
Mallya appears before the Special Court, secures bail. A month later, the Central Bureau of Investigation (CBI) initiates preliminary against state-run lender IDBI Bank and KFA over a Rs 950-crore loan obtained by the latter in alleged violation of norms. Another state lender, United Bank of India, declares Mallya and four KFA directors "wilful defaulters."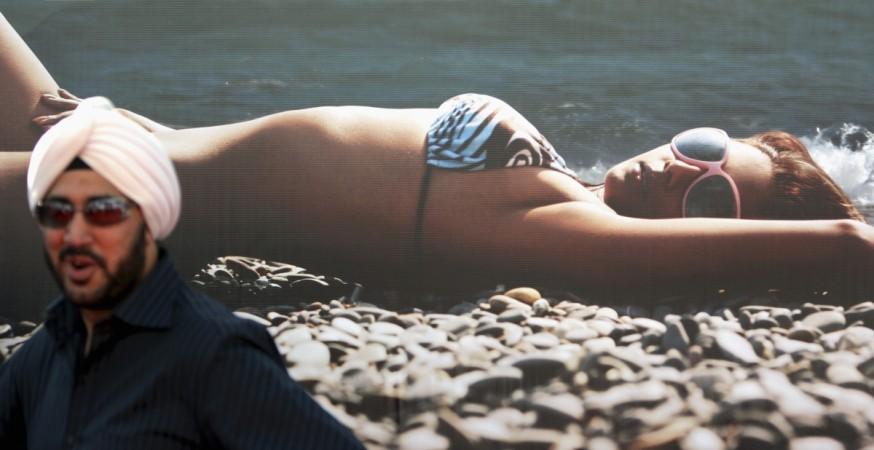 February 2015
Lenders' consortium, led by State Bank of India, took possession of a prized asset of UB Group, the Kingfisher House, in Mumbai, valued then at Rs 100 crore.
October 2015
The CBI searches Mallya's offices in connection with the Rs 950-crore loan sanctioned to KFA.
February 2016
Mallya signs a sweetheart deal with Diageo, whereby the British liquor firm agrees to pay £75 million over five years in return for his agreeing to step down from the chairmanship of United Spirits Ltd.
March 2016
The Enforcement Directorate (ED) registers a case of money-laundering against Mallya and KFA CFO A Raghunathan in connection with the same IDBI Bank loan case. Simultaneously, the Debt Recovery Tribunal restrains Diageo from going ahead with the £75 million deal with Mallya. Yet another significant development was banks moving the Supreme Court to prevent Mallya from leaving India. The move proved futile, as the "King of Good Times" fled India on March 2, as informed by the government on March 9.
April 2017
Mallya arrested by Scotland Yard on Tuesday (April 18) at around 9.30 am local time. "Vijay Mallya was arrested on behalf of the Indian authorities in relation to accusations of fraud. He was arrested after attending a central London police station," Scotland Yard said in a statement. The industrialist gets bail later.