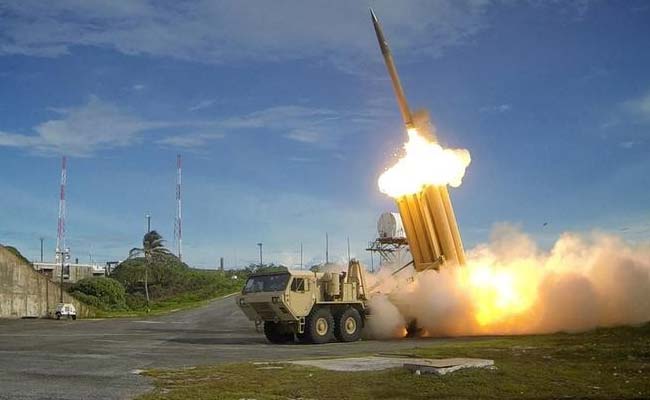 The United States has begun deploying the first elements of its advanced anti-missile system known as Terminal High Altitude Area Defense (THAAD) to South Korea, after North Korea's latest test of four ballistic missiles, the US Pacific Command said on Tuesday.
US, Japan call for urgent UN meeting after North Korea tests nuclear-capable missile
The US made the announcement after North Korean leader Kim Jong Un and the state media personally supervised the missile test launches on Monday. The missiles, which landed in Japanese waters, increased the threat against the US as American troops conduct joint military exercises with South Korea.
"Continued provocative actions by North Korea, to include yesterday's launch of multiple missiles, only confirm the prudence of our alliance decision last year to deploy THAAD to South Korea," US Pacific Commander Admiral Harry Harris said in a statement.
The deploying of THAAD, however, is set to worsen relations between South Korea and China as the Chinese nation has resolutely opposed to the deployment of the anti-missile system citing that it destroys the regional security balance.
Monday's reports state that four ballistic missiles landed in the sea off Japan's north-west, angering South Korea and Japan, days after North Korea promised retaliation over the military drills, which it considers as preparation for war.
US President Donald Trump and the Japanese Prime Minister Shinzo Abe on Tuesday discussed the North Korean missile launches over the phone.
"Japan and the US confirmed that the latest North Korean missile launches were clearly against U.N. resolutions and a clear provocation against the regional and international community. (North Korea's) threat has entered a new phase," Abe said, according to Reuters reports.
Trump also discussed the North Korean missile launch with the acting President of South Korea Hwang Kyo-ahn. North Korea's official news agency KCNA said that the missile test was conducted by an army unit commissioned with attacking US military bases in Japan.
"In the hearts of artillerymen ... there was burning desire to mercilessly retaliate against the warmongers going ahead with their joint war exercises. He (Kim) ordered the KPA Strategic Force to keep highly alert as required by the grim situation in which an actual war may break out any time, and get fully ready to promptly move, take positions and strike so that it can open fire to annihilate the enemies," KCNA said.