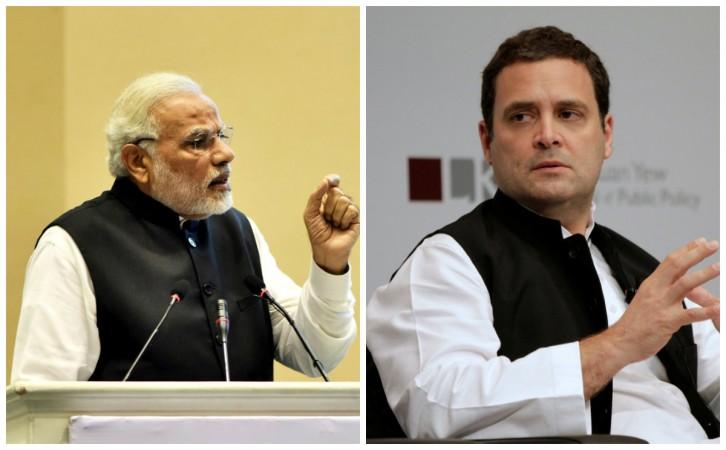 What started out as a fun Twitter dare has now completely turned into a political skirmish as Congress President Rahul Gandhi took potshots at Prime Minister Narendra Modi over the trending 'fitness challenge.'
Just hours after Modi accepted Indian skipper Virat Kohli's fitness challenge, Gandhi presented his own challenge to the prime minister: "Reduce Fuel prices or the Congress will do a nationwide agitation and force you to do so."
Gandhi took to Twitter to take a dig at Modi and said that he looks forward to his response, naming his challenge as "#fuelchallenge."
Modi had earlier tweeted showing his support to the viral social media challenge.
"Challenge accepted, Virat! I will be sharing my own #FitnessChallenge video soon. @imVkohli #HumFitTohIndiaFit."
Along with Modi, the Indian skipper had also extended the fitness challenge to his wife and Bollywood actress Anushka Sharma and former Indian skipper Mahendra Singh Dhoni.
It all started when Union Minister of Youth Affairs and Sports Minister and recently-appointed Minister of State for Information and Broadcasting (I&B), Rajyavardhan Singh Rathore, introduced a Twitter campaign urging Indians to get fitter and healthier. The viral trend involves the user posting a fitness video and asking others to take part in the challenge.
However, as the common man bears the brunt of rising fuel prices, little did Modi know that this fun Twitter challenge would give the opposition a chance to make jibes at him.
The rise in fuel prices has left the government in a catch 22 situation. The Bharatiya Janata Party president Amit Shah has even said that the government is trying to find a solution in the next few days.
"The government is taking the matter of oil prices seriously. Petroleum minister will have a meeting with the officials of the oil companies. We are trying to work out a formula to reduce the prices in the next three to four days," Shah was quoted as saying by Press Trust of India.
Dear PM,

Glad to see you accept the @imVkohli fitness challenge. Here's one from me:

Reduce Fuel prices or the Congress will do a nationwide agitation and force you to do so.

I look forward to your response.#FuelChallenge

— Rahul Gandhi (@RahulGandhi) May 24, 2018