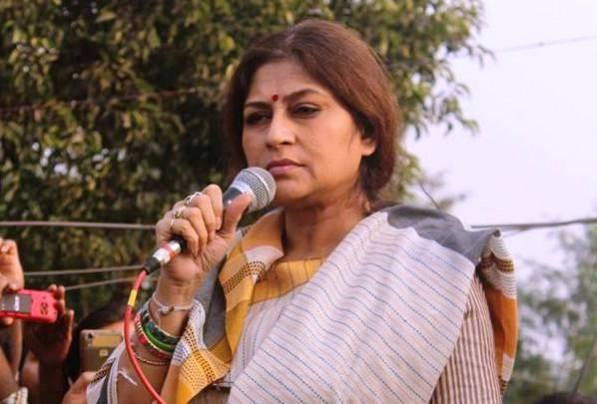 An FIR has been filed against actor-turned-politician Roopa Ganguly after she claimed women can be raped within 15 days of arriving in West Bengal.
The BJP MP, who played Draupadi in the iconic Doordarshan serial Mahabharat, had told news agency ANI on the evening of Friday, July 14, that women would get raped within 15 days of arriving in West Bengal.
The statement drew flak from various quarters, but Ganguly refused to budge from her stand. She told the news agency a day later that even 15 days was too long a duration, implying that women who stay in West Bengal run the risk of being raped even earlier!
She was apparently referring to the communal violence that broke out in Basirhat in West Bengal earlier this month, and the suffering of women as a result of it.
What Ganguly said
Ganguly, who made a name for herself working in the Bengali film industry, has had her fair share of controversies ever since she was nominated to the Rajya Sabha last year.
For starters, she was named in a child-trafficking racket that was unearthed while operating out of West Bengal earlier this year.
However, the latest controversy has the potential to blow up in her face. Especially after she said: "I dare all the parties, the ones who keep flattering the Bengal government and Congress, to send their daughters, wives, and sister-in-laws to Bengal without taking any hospitality from Banerjee."
The reference was to West Bengal Chief Minister and Trinamool Congress chief Mamata Banerjee.
Ganguly went on to say on Friday: "If they are able to survive for 15 days without getting raped, then tell me."
Watch her statement here:
The BJP MP then said on Saturday that even 15 days was too long a time, and that the women would be abused even before a fortnight!
Trinamool hits back
The Trinamool Congress was quick to hit back at Ganguly and her statements.
Trinamool leader Sovandeb Chattopadhyay told ANI that Ganguly should "say how many times she has been raped in West Bengal" before she casts such a slur on the entire state.
It may be noted that the Trinamool Congress had once courted similar controversy when one of its most visible and vocal leaders had threatened Left party workers with rape.
Incidentally, it was another actor-turned-politician named Tapas Pal who had made the statement about getting his "boys" to commit rape.
He had said back then: "If you (CPM) ever touch any Trinamool Congress worker or their families at Choumaha , you have to pay for this... I will shoot you guys if a Trinamool Congress worker is ever attacked..."
He had then gone on to add: "If you insult the mothers and daughters of Trinamool workers, then I won't spare you. I will let loose my boys in your homes and they will commit rape. I will teach each of you a lesson."