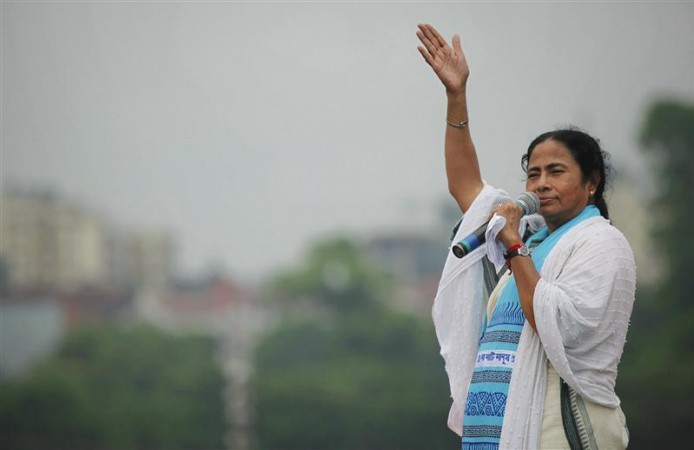 Nandini Pal, Trinamool Congress MP Tapas Pal's wife on Tuesday, apologized for her husband's alleged statement to "kill and rape women members" of Marxist party.
"I apologise to the people of the country for the comments made. The comments need to seen in the context, but he shouldn't have used the term 'rape'," IBN quoted Nandini.
Television news channels, on Monday, released a video of Tapas threatening the Communist Party of India (Marxist) women with rape and murder during a 2014 election rally in a Chowmatha village in Tehatta in Nadia district.
"If you (CPM) ever touch any Trinamool Congress worker or their families at Choumaha , you have to pay for this... I will shoot you guys if a Trinamool Congress worker is ever attacked... If you insult the mothers and daughters of Trinamool workers. Then I won't spare you. I will let loose my boys in your homes and they will commit rape. I will teach each of you a lesson," Pal said.
Trinamool condemning Pal's statement, on Monday night demanded a written explanation for his comment, to be submitted to the party within 48 hours. "The statements made by Mr Tapas Pal are utterly insensitive. The party does not in any way endorse what he said many weeks ago, which is being played out on TV channels today," The Economic Times quoted Trinamool spokesperson Derek O Brien.
Not only other political parties but the members of his own party are condemning him for his statement.
CPI (M) leader Brinda Karat too has demanded the Lok Sabha speaker to take action against him and withdraw his membership from the Parliament.
While the Congress has condemned his statement, former IPS Officer Kiran Bedi has asked the police to take immediate action against him. The National Commission for Women and Bedi has demanded his resignation from the party.
"Mamata Banerjee needs to suspend him, she should throw him out. Why haven't the police yet registered a case against him? The police can take suo motu action and register a case against him immediately.
Mamata should break her silence and throw this man out. Insensitive comments like these should be stopped by politicians," she said.
Senior TMC leader and Education Minister Partha Chatterjee said that the party would not endorse such a remark from its member. He said he'll talk to Pal about his statement and would ask his explanation for the use of such words.
However, he believes that the adverse circumstances, created by the opposition, would have provoked him to make that statement.
Tapas Pal has however, denied making any such remarks ever, but in his later statements to news channels and newspapers he has been found clarifying his comment on CPM women members.
Pal had earlier told Hindustan Times that he does not remember being a part of any such event and thus he denied making the 'rape' remarks too.
In yet another statement to Indian Express, he said, "When you see a pregnant mother tortured or a man's hands chopped off, you can't control your anger. I just became mad."
Whereas, contradicting his earlier statements, he clarified in an interview with IBN, that he had said 'raid' and not 'rape'.
"I never said rape. I said raid. I said they should raid all the people and places, including women and old," he told IBN.
Tapas Pal, who is a Bengali actor joined Trinamool Congress as an MLA in 2001 and is presently party's Member of Parliament from Krishnanagar.
One such incident occured a couple of year back, when TMC party MP MP Kakoli Ghosh Dastidar commented agaisnt the Park Street rape victim.
In 2012, a case was booked agaisnt Dastidar for her provocative comment. She said that the incident was a "misunderstanding between a lady and her client" and not a rape.
However, later the case was closed and she apologized for her remarks.