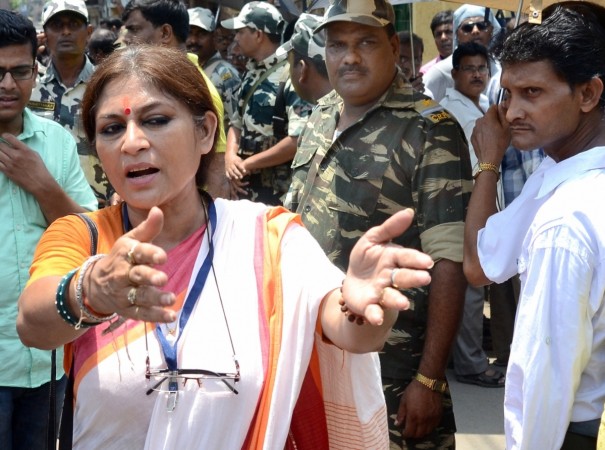 Actor-turned-politician Roopa Ganguly was on Tuesday nominated to the Rajya Sabha by President Pranab Mukherjee, who was using his discretionary powers. The president of India is allowed to appoint as many as 12 members to the upper house of Parliament for their contributions in the fields of art, literature, science, and social services.
Ganguly was nominated to the Rajya Sabha in place of cricketer-turned-politician Navjot Singh Sidhu, who had been made an MP on a BJP ticket earlier this year. However, Sidhu has since then not only resigned from the Rajya Sabha, but also floated his own front, with which, he says, he aims to work for the betterment of Punjab, where Assembly elections are due soon.
Ganguly had initially shot to fame playing the role of Draupadi in Mahabharat, which was produced by BR Chopra and directed by Ravi Chopra for Doordarshan and ran for 94 episodes from 1988 to 1990. She has also starred in a number of Bengali films — both as the protagonist and a character actor — before foraying into politics.
Ganguly's acting career has spanned nearly three decades, during which she has appeared in not only Hindi and Bengali films but Oriya films as well. Interestingly, she had also acted in two Kannada films at the beginning of her career. Her last Hindi film was Barfi!, where she played the mother of Ileana D'Cruz's character.
She was active in Bengali cinema till 2015 — her last film being Arshi Nagar, directed by National Award-winner Aparna Sen and based on William Shakespeare's Romeo and Juliet — when she joined the Bharatiya Janata Party (BJP) just in time for the 2016 West Bengal Assembly elections.
Ganguly was one of the star campaigners for the state unit of the BJP, and even tested political waters in the assembly polls. She contested from the Howrah North constituency, but lost to Lakshmi Ratan Shukla, cricketer-turned-politician.