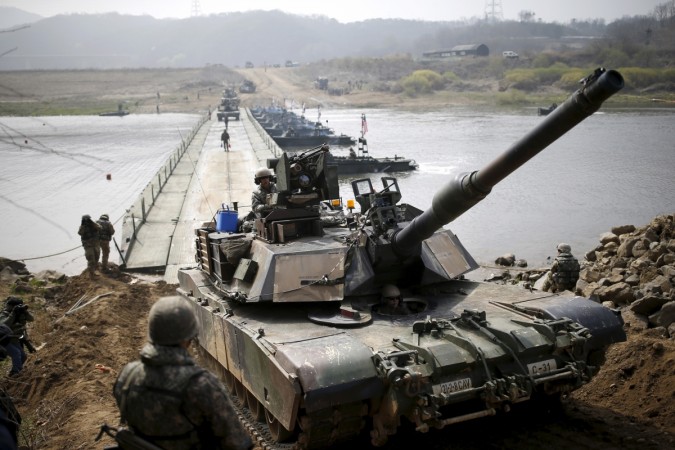 In an official announcement, the United States and South Korea have decided to suspend the Ulchi Freedom Guardian (UFG) exercise slated for August, as part of Trump's promise to North Korean leader Kim Jong-un.
During the Singapore summit between the two leaders on June 12, the US President spoke about his plan to stop "provocative, inappropriate and expensive" war games at Kim's request. Pyongyang has long seen these war games as an invasion rehearsal, it was a bone of contention for North Korea.
"Following close cooperation, South Korea and the US decided to suspend all planning activities for the UFG, the defensive exercise slated for August," Seoul's Defence Ministry said. "The South and the US plan to continue consultations over additional measures."
The ministry also said that there is no decision yet regarding other allied training exercises. The US Department of Defence also made the same announcement.
"Consistent with President Trump's commitment and in concert with our Republic of Korea ally, the United States military has suspended all planning for this August's defensive 'wargame' (Freedom Guardian)," Pentagon spokeswoman Dana White said in a statement late Monday.
"Those conversations are ongoing at this point. As long as North Korea continues to act in good faith, then we expect those things to be on pause[sic]," White House Press Secretary Sarah Sanders told reporters on Saturday.
The UFG is a command post exercise based on computer-simulated war games centered around the scenario of an all-out war with the pariah state.
In 1954, the US-led UN Command started the Focus Lens exercise. It was later combined with South Korea's Ulchi exercise, which was launched in the wake of a North Korean infiltration in 1968. The combined exercise, which was called the Ulchi Focus Lens (UFL), was renamed the UFG in 2008. In 1990, the allies temporarily halted the UFL due to the US' participation in the Gulf War.
Amid dialogue with the North in 1992, Seoul and Washington also cancelled their Team Spirit exercise, which resumed the following year.
[With inputs from IANS]