And the day is finally here! After months of speculations, a war of words and all the waiting, US president Donald Trump and North Korean leader Kim Jong Un met on Tuesday, June 12, at the Capella Hotel on Sentosa island in Singapore.
This is the first time Trump and Jong Un met, especially after trading jibes since last September and both the leaders were quite enthusiastic about the meet.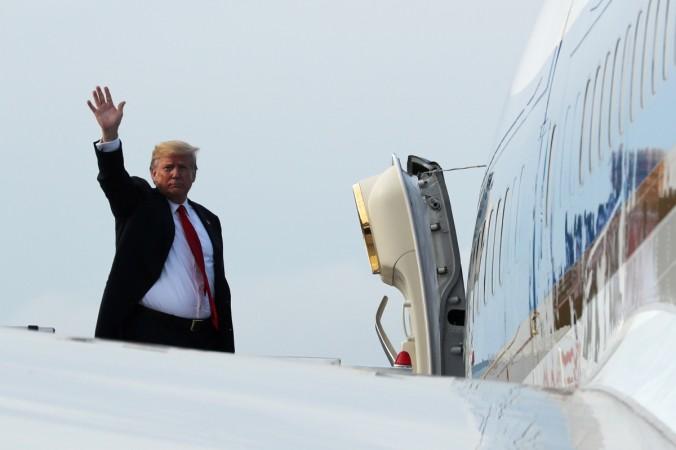 As it happened
Trump-Kim summit garners appreciation
Britain hopes that Jong Un will finally give up its nuclear weapons.
British Foreign Secretary Boris Johnson said that the nation hopes that "Kim Jong Un "continues to negotiate in good faith towards complete, verifiable and irreversible denuclearization."
While the Trump-Kim summit has already been lauded by South Korea, China, and Japan, several other nation also welcomed the meet
European Union foreign affairs chief Federica Mogherini appreciated the two leaders' move calling it a "crucial and necessary step to build upon the positive developments achieved in inter-Korean relations."
In a statement the EU said: "The European Union ... remains ready to facilitate and support the follow-on negotiation and other steps aimed at building confidence and ensuring long-lasting peace, security and prosperity on a Korean Peninsular free of nuclear weapons."
Russia also was pleased with US-North Korea meet and Foreign Minister Sergey Lavrov said: "We have not seen any documents. I think they have not been published yet, but the fact of the meeting itself is of course positive."
Air Force One leaves Singapore
Trump departed Singapore aboard the Air Force One
He will briefly stop in Hawaii and Guam and then go to Maryland.
Trump jokes about his impression of Jong Un
Trump said that he may have been wrong about Jong Un, but said that he may never admit it.
"I may be wrong and stand before you in six months and say, 'Hey I was wrong," he said. But then joked: "I don't think I'll ever admit that."
Trump said that the US-North Korea follow-up discussions will take place next week
The US gave up nothing
A few critics have slammed Trump's decision to meet Jong Un and said that the US was nothing getting anything out of it.
But Trump says the US did not make any compromise
"I gave up nothing. I'm here. I haven't slept in 25 hours, but I thought it was appropriate to do," he said.
On North Korea sanctions
While Trump said that the sanctions will stay, for now, he said that the US looks forward to removing them.
"I actually look forward to taking them off," he said, adding that would happen "down the road when nothing's going to happen."
Trump praises Jong Un
The US believes that Jong Un will keep his promise and has also not tested a missile for the last seven months
Trump also said that Jong Un had accepted his invitation to the White House.
President Trump seemed impressed with the North Korean leader and said that it was great how he could run a country at such a young age.
"He is very talented" and has the ability to "take over a situation like he did at 26 years of age and run it, and run it tough."
No more joint military exercises
Trump said that his nation will stop the "war games," said to be a reference to joint military exercises with South Korea.
"I want to get our soldiers out. I want to bring our soldiers back home," Trump said. "But that's not part of the equation right now. I hope it will be eventually."
North Korea has often lashed out at the US and South Korea and called the exercises "provocative."
Trump talks Otto Warmbier
The US president also spoke about American student Otto Warmbier and Pyongyang's human right violations.
Otto Warmbier is a very special person and he will be for a long time in my life. His parents are good friends of mine. I think without Otto, this would not have happened. Something happened from that day. It was a terrible thing. It was brutal. But a lot of people started to focus on what was going on, including North Korea. I really think that Otto is someone who did not die in vain. I told this to his parents. Special young man. And I have to say, special parents, special people. Otto did not die in vain. He had a lot to do with this.
Trump discusses meeting with Jong Un
Preventing war games can save money, says US president
Trump said that the day was spent with "very intensive hours" with Jong Un that resulted in a "comprehensive document."
He also said that he hoped for peace
It was an honest meeting, says Trump
Sanctions to remain
North Korea already destroying a major nuclear testing site
"We also agreed to vigorous negotiations to implement the agreement as soon as possible," Trump added.
Past conflict cannot be tomorrow's war, he says.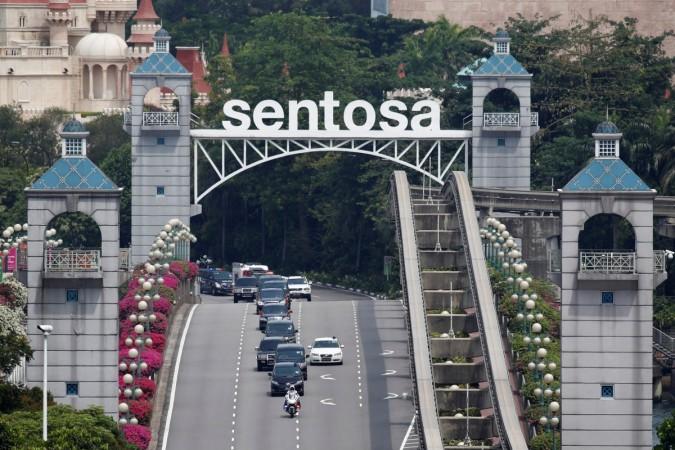 Details of signed documents
Jong Un has committed to "complete denuclearisation of Korean Peninsula," reported AFP
While Jong Un has already left Sentosa Island, Trump is speaking to media persons.
The two leaders signed a document and pledged to "work toward complete denuclearization of the Korean Peninsula."
Here's what the document says,
President Trump and Chairman Kim Jong Un conducted a comprehensive, in-depth, and sincere exchange of opinions on the issues related to the establishment of new US-DPRK relations and the building of a lasting and robust peace regime on the Korean Peninsula. President Trump committed to provide security guarantees to the DPRK, and Chairman Kim Jong Un reaffirmed his firm and unwavering commitment to complete denuclearization of the Korean Peninsula.
China lauds the summit
After Trump and Jong Un concluded the meeting, China hailed the two nations' step.
"We hope all relevant sides will make an effort toward this and China will continue to play a constructive role," Chinese Foreign Minister Wang Yi said, according to CNN
Wang said that he hoped that the meet would "clear interferences, establish mutual trust and overcome difficulties so that they will reach a basic consensus on, and take concrete steps toward, the denuclearization of the Korean Peninsula."
Trump-Kim meeting ends
The Air Force One, carrying Trump and the delegates, is scheduled to jet out of Singapore at 7 pm local time, which is 4.30 pm IST.
Trump will address the media in a while and said that he would talk about what happened at the meeting and what documents were signed.
Jong Un has left the Capella Hotel

Denuclearisation
Trump said: "We're starting that process very quickly, very, very quickly. Absolutely."
He also said that he is willing to invite Jong Un to the White House
Trump and Jong Un sign documents
The two leaders signed "very important document," the contents of which haven't been revealed.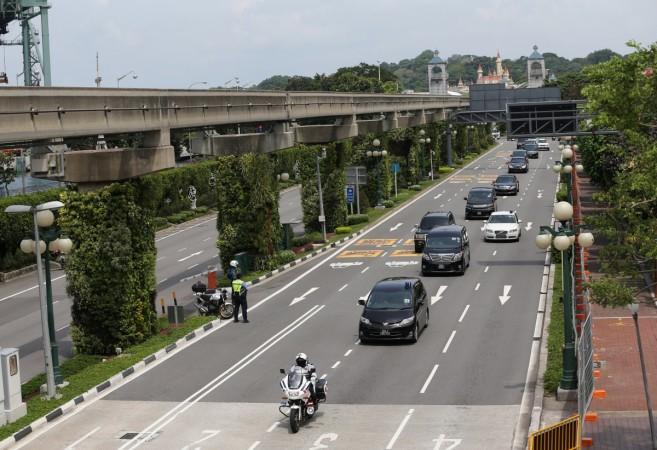 "We're signing a very important document, a pretty comprehensive document," CNN quoted Trump as saying.
We had a historic meeting and decided to leave the past behind and we are about to sign the historic document," Jong Un said through a translator. The world will see a major change."
A US official earlier told CNN that Trump and Jong Un will sign an agreement pledging that the two nations will continue indulging in dialogue and work together.
Trump will address the press at 4 pm local time, which is 1.30 pm IST.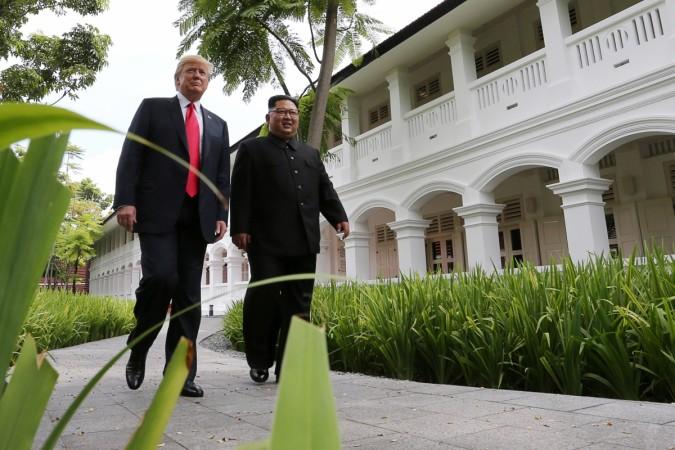 A "signing" after lunch
The working lunch has ended and Trump said that the duo is now off for a "signing."
It is yet to be known what documents the two leaders will sign
The two leaders were seen strolling at the Capella Hotel property
The world watches
While North Korea has been upbeat about the summit, Japan too has been keeping an eye on it.
Japan's Yomiuri newspaper also brought out a special edition in both Japanese and English and distributed it free of cost one hour after the meeting began, the Associated Press reported.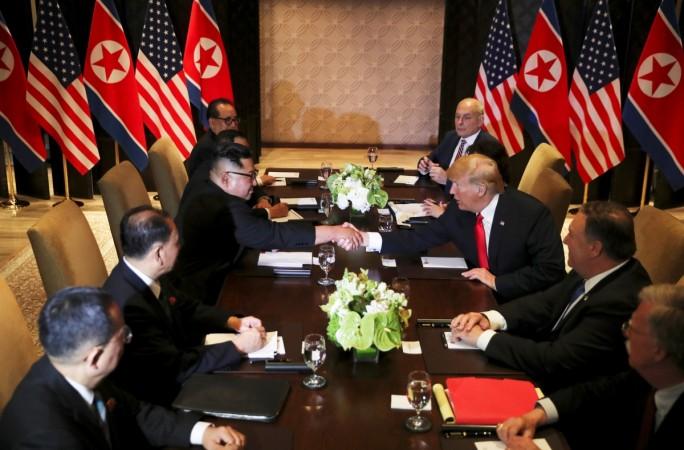 What went down at the meeting
At the meeting, Jong Un said that this was a great step that the two nations had taken and believes it is "a great prelude to peace."
Trump also agreed with him and added: "I do too."
Of course there will be difficulties along the way, but as of today, a day that a good start has been made, I am determined to start a grand undertaking together," Jong Un added.
Trump jokes with reporters
Trump and Jong Un are having a working lunch.
The US president seemed to be in good spirits and told the reporters to make them look "nice and handsome and thin" in photos.
What's for lunch?
A scrumptious spread will be laid out for Trump and Jong Un
Starters: Prawn cocktail with avocado salad, green mango kerabu or "oiseon," a Korean stuffed cucumber.
Main course: Beef short rib confit, sweet and sour crispy pork with Yangzhou Fried Rice or "daegu jorim," a Korean soy braised codfish with radish, and Asian vegetables
Dessert: Dark chocolate tartlet ganache, vanilla ice cream or "tropezienne," a pastry dessert.
Dennis Rodman on the summit
Former NBA star Dennis Rodman is also in Singapore and spoke about the summit.
He hoped that the summit has a positive outcome.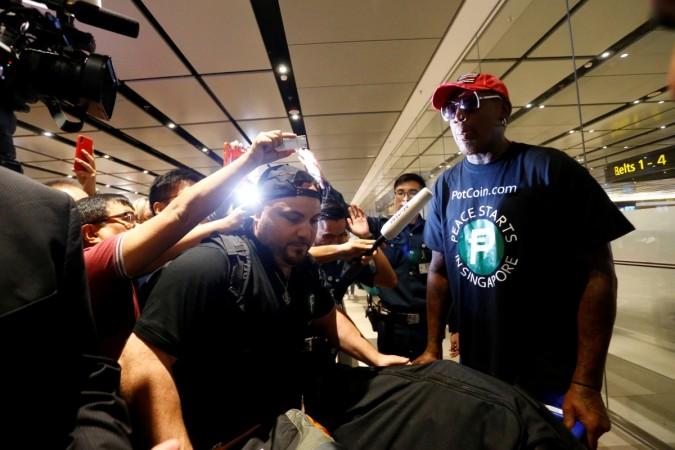 Rodman is known to be close to Jong Un and said that the North Korea leader is not used to people keeping their promises and hence is very cautious.
A teary-eyed Rodman told CNN in a televised interview: "I said I'm gonna give him a present. I got a lot of people together and it happened. And Kim came to me and said Dennis, this is the first time someone has ever kept their word to me and my country. I came through and I think he really appreciated that."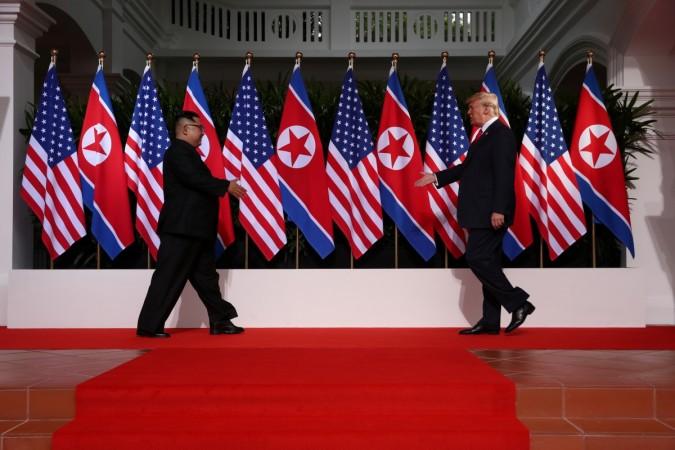 Rodman's equation with Jong Un
The former NBA star has known Jong Un for a while now and is close friends with the North Korean leader.
It was earlier thought that Jong Un had two children. But it was Rodman who confirmed that the younger child was a daughter.
He had even said that his friend was a "good dad."
What do the two nations expect from the meet
Trump has acknowledged that the change would not happen overnight and said that it is a process.
He also believes that if North Korea does agree to shut down its nuclear programme, it will be done gradually.
But he hopes that the two leaders can at least sign an agreement to end the Korean War.
Meanwhile, Jong Un is unlikely to immediately give up on its nuclear programme immediately.
Analysts believe that North Korea will not give up its weapons so easily, especially after working so hard to build them in the first place.
Many others also believe that North Korea would not give up its nuclear programme until and unless the Korean peninsula also makes the move.
it would also want Washington to do the same.
Second round of talks
Trump and Jong Un are likely to hold talks until 11:30 a.m. local time, which is 9 am IST.
The two leader will then have a working lunch
South Korea watching with bated breath
While the US and North Korea are watching the summit closely, Seoul isn't far behind.
South Korean President Moon Jae-in said that he had "a sleepless night."
I, along with all our people, sincerely hope that it will be a successful summit that will open a new era of complete denuclearization, peace and a new relationship between South Korea, North Korea and the United States," says the Yonhap news agency quoted him as saying.
Who's with Jong Un?
The talks in Singapore involve some senior officials of Pyongyang including Vice-Chairman of the Party Central Committee Kim Yong Chol.
Chol had met Trump in June to deliver a letter from the North Korean leader when it was feared that the summit wouldn't materialise, reported CNN.
Ri Yong Ho, Jong Un's foreign minister, and Ri Su Yong, the vice-chairman of the Central Committee of the Worker's Party of Korea are also present
Delegation level talks
Trump and Jong Un held delegation-level talks and the US president has said that the meeting will have a positive outcome.
While he had earlier acknowledged the fact that things are not going to change overnight, he said that through this meet, he and the North Korean leader will "will solve a big problem, a big dilemma."
One-on-one meeting
Before the delegation level talks, Trump and Jong Un had a one-on-one meeting and all eyes were on the two leaders.
After the meeting, both of them seemed pleased that this step had been taken and Trump even said that the meeting was "very very good" and that they had an "excellent relationship."
What Trump and Jong Un have to say
"We will have a terrific relationship, I have no doubt," Trump said ahead of the meet.
Jong Un said that the two nations had reached this point after a lot of thought and that they also had to overcome a lot of obstacles.
The way to come to here was not easy," he explained. "The old prejudices and practices worked as obstacles on our way forward but we overcame all of them and we are here today."
The historic handshake
US President Donald Trump and North Korean leader Kim Jong Un shook hands and posed for photographs before the historic one-on-one meet begins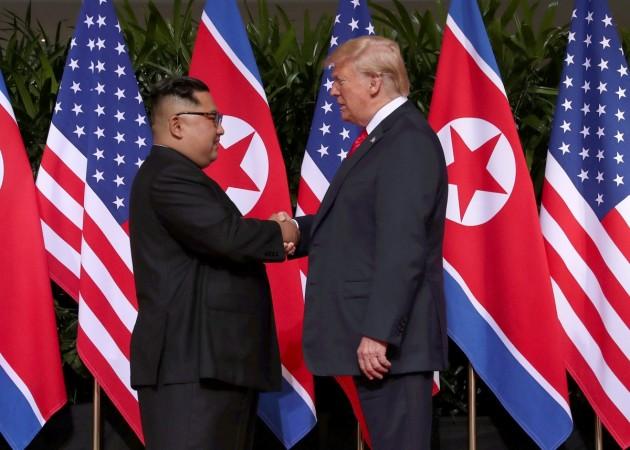 Trump tweets about Larry Kudlow's heart attack
Ahead of the summit, Trump said that his top economic advisor Larry Kudlow had suffered a heart attack and was taken to the hospital
Our Great Larry Kudlow, who has been working so hard on trade and the economy, has just suffered a heart attack. He is now in Walter Reed Medical Center," he tweeted
Trump touched down in the island nation on Sunday, June 10, hours after Jong Un reached Singapore from Pyongyang. While Jong Un is staying at the iconic Fullerton Hotel, Trump is at the Shangri-La. But the duo will hold the meeting at the Capella Hotel on the resort island of Sentosa.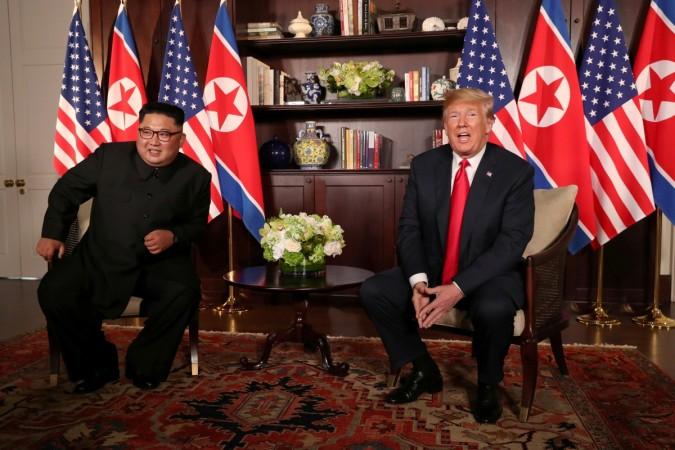 The North Korean leader met the prime minister of Singapore Lee Hsien Loong on June 10 and told him that the "the entire world is watching." Ahead of that, Trump had said that this was a "one-time shot" when it came to building a relationship with the reclusive country.
The two leaders will discuss North Korea's nuclear programme and the US will try to convince Pyongyang to give up its weapons. The US had earlier described the meet as a "get-to-know-you situation" and said that giving up on the weapons "it's going to be a process," reported the BBC. But the US hoped that the two leaders can at least sign an agreement to end the Korean war, which was called off after a truce in 1953.