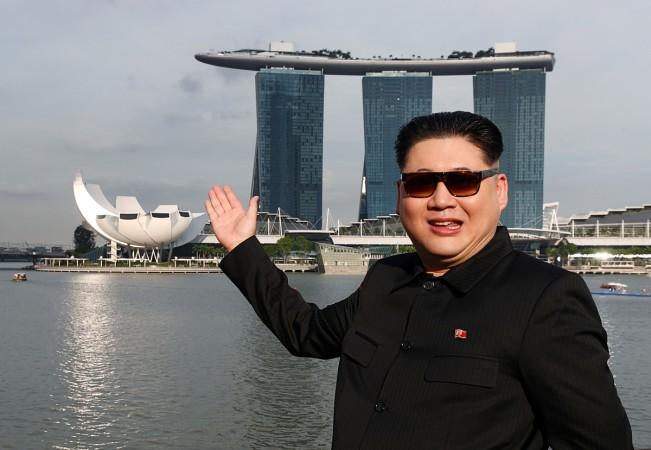 While North Korea and the United States have been going back and forth on the whether the upcoming Singapore summit will materialise or not, there seems to be someone who is overjoyed about the meet and has already reached Singapore.
The residents of the island nation were thrilled to see North Korean leader Kim Jong-un near the Marina Bay Sands hotel in Singapore on Sunday, May 27. Onlookers rushed to catch a glimpse of the reclusive leader and some even requested for photographs.
However, the joy was short-lived as people soon realised that the man was not Jong-un, but his doppelganger, who goes by the name Howard X.
"It looked like the real Kim Jong-un, but later I realised it's not the real one," Reuters quoted Sagar Admuthe, an Indian tourist, as saying. "When you see him, it's very difficult to make out."
X, an Australian-Chinese man, said that he had come to Singapore from Hong Kong to wish Jong-un and US president Donald Trump luck for the summit and hoped the talks would be successful in building relations between the two countries. "I think the two leaders will sit down and they're going to have a great time, because really they have the same personality," he told Reuters.
"They are going to be best friends right after this meeting."
Speaking of Jong-un and how similar they looked, X said that things changed for him after Jong-un became the leader in 2011. The similarities changed his fortune and he reportedly started a new career in films, commercials and is even invited to private functions.
"I said that guy looks a lot like me, and I thought, wow, I need to do something with this and make some money," X explained. "This is my normal body. But he's fatter, and I can't catch up ... it'll damage my health."

When asked what he thought of Singapore, he said it is a great place and, in fact, "just like Pyongyang, but with lots of good food," reported the Agence France-Presse. He also said that Jong-un has made a promise to arrive in Singapore for the summit and he "better turn up."
He also had a message for Trump and said:
"Hey Donald, I'm already here in Singapore! Look, it's fantastic. So I'm here, Donald, don't stand me up, ok? You still got a couple of weeks to get down here, so I don't want excuses."
Meanwhile, this is not the first time that X has been spotted impersonating Jong-un and he even made an appearance at the Winter Olympics in Gangneung in South Korea in February. But he clearly is quite popular among people and onlookers continued to greet him and requesting photographs even after realising that he was a doppelganger.
The US-North Korea summit is scheduled to take place in Singapore on June 12, but several doubts have been raised in the last few days. North Korea was specially irked by Washington's Libya reference and had warned of a "nuclear showdown."
The comparison with Libya alarmed Pyongyang as Libyan leader Muammar Gaddafi had negotiated with Washington and agreed to abandon its nuclear programme in early 2000s in exchange for sanctions relief. However, he was overthrown and killed by US-backed rebels a few years later.
"We will neither beg the US for dialogue nor take the trouble to persuade them if they do not want to sit together with us," CNN had quoted Choe Son Hui, a vice-minister in the North Korean Foreign Ministry, as saying.
However, things seem to be settling down now and Trump took to Twitter to say that the meet "will happen."
Our United States team has arrived in North Korea to make arrangements for the Summit between Kim Jong Un and myself. I truly believe North Korea has brilliant potential and will be a great economic and financial Nation one day. Kim Jong Un agrees with me on this. It will happen!

— Donald J. Trump (@realDonaldTrump) May 27, 2018