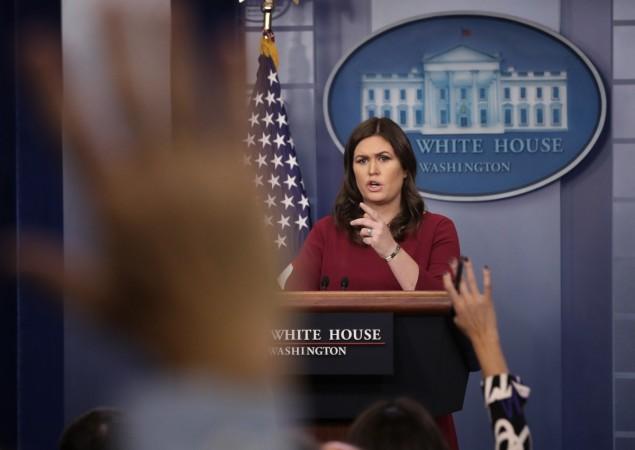 US President Donald Trump has slammed a restaurant named Red Hen that asked White House Press Secretary Sarah Huckabee Sanders to leave because she worked and spoke for him.
"The Red Hen Restaurant should focus more on cleaning its filthy canopies, doors and windows (badly needs a paint job) rather than refusing to serve a fine person like Sarah Huckabee Sanders," Trump tweeted on Monday, Xinhua news agency reported.
"I always had a rule, if a restaurant is dirty on the outside, it is dirty on the inside!" the President wrote on Twitter.
It was unclear whether Donald Trump had ever visited the restaurant located in downtown Lexington, the state of Virginia, or how he would have determined its level of cleanliness.
In recent years, the Red Hen has passed its inspections with minor or no violations, according to Virginia's Department of Health restaurant inspections which are public records available online.
On February 6, inspectors visiting Red Hen observed "good food/unit temperatures," staff with "clean uniforms/aprons," and an "excellent job on code-dating." No follow-up was required, according to media reports.
Sanders tweeted last Saturday that she had been asked to leave the restaurant Friday evening because she worked in the Trump administration, and she "politely left" after the request.
The owner of the restaurant, Stephanie Wilkinson, said later she was notified of Sanders' visit by some of her gay staff, who were uncomfortable serving a member of the administration allegedly unfriendly to gays.
They were also not happy with the way the White House has been dealing with illegal immigrants in recent months, particularly after border patrol agents began separating adult immigrants from their children, she added.
Wilkinson said she took Sanders aside and asked her to leave, a request the White House staffer complied with. The party was not charged for the food they were served before their departure.
Following Sanders tweeting, debates erupted on media panels and social media alike, as pundits and people expressed their support, dismay or even anger at Wilkinson's gesture.
The Washington Post, a mainstream media that disagrees with the Trump administration more often than not, weighed in on Sanders' side, issuing an editorial saying even controversial public figures should have their private life protected.
"It wasn't the first time recently that strong political feelings have spilled into what used to be considered private sphere. We understand the strength of the feelings, but we don't think the spilling is a healthy development," the article said.