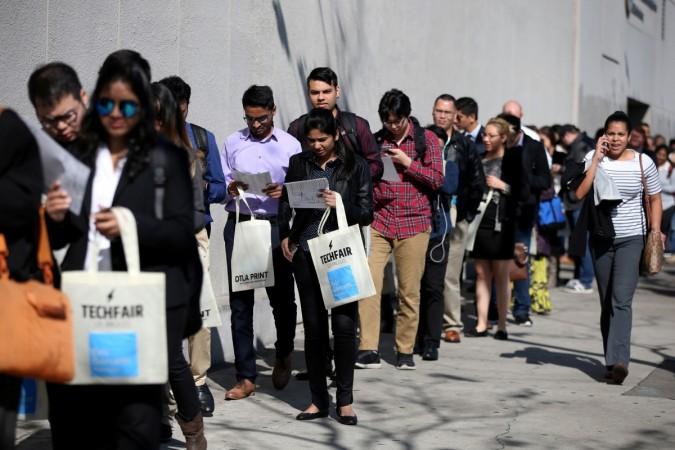 U.S. job growth likely accelerated in August, with the unemployment rate expected to have fallen back to an 18-year low of 3.8 percent, which would bolster views that the economy was so far weathering the Trump administration escalating trade war with China.
Nonfarm payrolls probably rose by 191,000 jobs last month after gaining 157,000 in July, according to a Reuters survey of economists. The Labor Department will publish its closely watched employment report on Friday.
Analysts said the administrations $1.5 trillion tax cut package and increased government spending were shielding the economy from the trade tensions, which have also seen Washington engaged in tit-for-tat tariffs with other trade partners, including the European Union, Canada, and Mexico.
They also noted that the import duties implemented so far have affected only a small portion of the American economy, but warned this could change if President Donald Trump pressed ahead with additional tariffs on Chinese imports.
The economy is on an adrenalin rush, said Ryan Sweet, senior economist at Mood Analytics in Westchester, Pennsylvania. Given the amount of fiscal stimulus that the economy is benefiting from, it's going to take a lot to get it off that high.
The United States and China have slapped retaliatory tariffs on a combined $100 billion of products since early July.
Americans had until Thursday to comment on a list of $200 billion worth of Chinese goods widely expected to be hit with tariffs soon. The government imposed import duties on goods including steel, aluminium, washing machines, lumber and solar panels early this year to protect American industries from what Trump says is unfair foreign competition.
Global outplacement firm Challenger, Gray & Christmas said on Thursday there were 521 tariff-related job cuts in August, but these were largely offset by the hiring of 359 workers by steel producers.
August job growth could, however, fall short of expectations because of a seasonal quirk. Over the past several years, the initial August job count has tended to exhibit a weak bias, with revisions subsequently showing strength.
This August weakness has also tended to occur in many of the same industries, including manufacturing, professional services, retail, and information, and we estimate that residual seasonality could weigh on headline payroll growth in tomorrow report by 40,000 or even more, said Spencer Hill, an economist at Goldman Sachs in New York.
Moderate wage growth
Nevertheless, the anticipated one-tenth of a percentage point drop in the unemployment rate from 3.9 percent in July should underscore tightening labour market conditions and cement expectations for a third interest rate increase from the Federal Reserve this year when policymakers meet on September 25-26.
Another encouraging labour market performance should instil greater confidence that gradual interest rate increases are still the most appropriate course of policy action for the foreseeable future, said Sam Bullard, a senior economist at Wells Fargo Securities in Charlotte, North Carolina.
The employment report would add to manufacturing and services industries surveys in suggesting the Trump administration protectionist trade policy was having a marginal impact on the economy for now. The economy grew at a 4.2 percent annualized rate in the second quarter, almost double the 2.2 percent pace set in the January-March period.
For now, the vibrant labour market is not generating wage inflation, which likely reduces the prospect of the economy overheating. Average hourly earnings are forecast increasing 0.2 percent in August after rising 0.3 percent in July.
That would keep the annual increase in wages at 2.7 percent in August. Annual wage growth has remained below 3 percent since mid-2009. Moderate wage gains have been blamed on low productivity growth and are also seen as an indication that there is still some slack in the labor market.
We do, however, expect it to reach a new high of 2.9 percent by the fourth quarter, said Lou Crandall, chief economist at Wrightson ICAP in Jersey City.
Job gains in August were likely across all sectors. Manufacturing payrolls are forecast rising by 24,000 jobs after increasing by 37,000 jobs in July. Construction companies probably added to the 19,000 workers hired in July.
Employment at sporting goods, hobby, book and music stores are expected to have rebounded in August after shedding 31,800 jobs in July related to the closing of all Toys-R-Us stores. Government employment likely increased by 1,000 jobs in August.