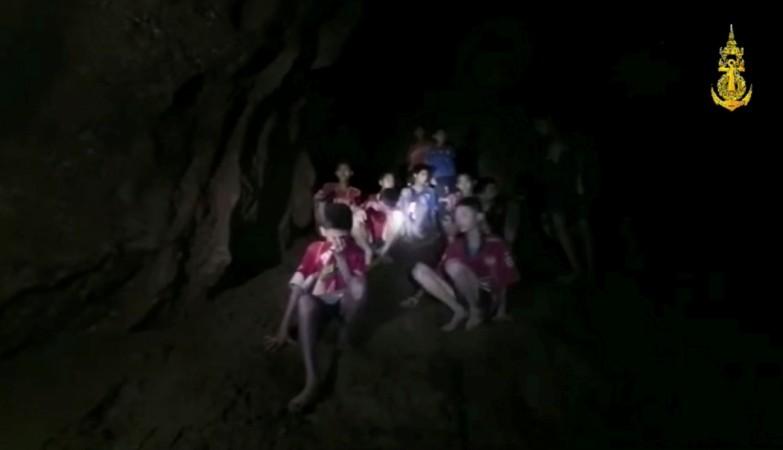 The missing 12 young footballers and their assistant coach of Mu Pa Academy Mae Sai were recently found safe in Tham Luang Cave after 10-day-long survival.
The cave in northern Thailand was partly flooded and the victims survived by drinking dripping water from the limestone in the cave and laying still. "I am so glad that I cannot think of anything else," said an uncle of a 13-year-old football player.
As per the reports, a team of 16 Navy SEAL divers has been sent to the location Nern Nom Sao slope, where they will stay with the trapped victims, keep tabs on their health and prepare them for evacuation.
While the rescue team has successfully paved the way in finding the victims, they might have to wait before they are back home as extracting the boys and their coach could take some time. Chiang Rai provincial Governor Narongsak Osottanakorn said that the main challenge is to bring them out of the cave safely.
We worked so hard to find them and will not lose them," said the governor.
The rescue team will have to surpass certain hurdles in bringing the boys out of the cave. The boys are estimated to be trapped around 2 kilometers in the cave and somewhere between 800-1000 meters below the surface.
The cave network is 10 kilometers long Most of the stretch is narrow passageways that lead to wide chambers and then back to tight passageways.
Thailand's rainy season has flooded the cave and the divers are finding it difficult to move through the muddy waters, currents, and narrow passages.
The rainy season typically lasts between July and October in Thailand. Rescuers believe that the safest option is to supply them food and other requirements and wait for the water levels to drop, either naturally or by pumping out water. This might takes time anywhere from days to weeks or even months.
The rescuers are also finding other possible ways on the mountainside into the caverns below. Another option for rescuing the victims could possibly be to teach them to dive. This would be the fastest process of extraction, but could also be most dangerous.