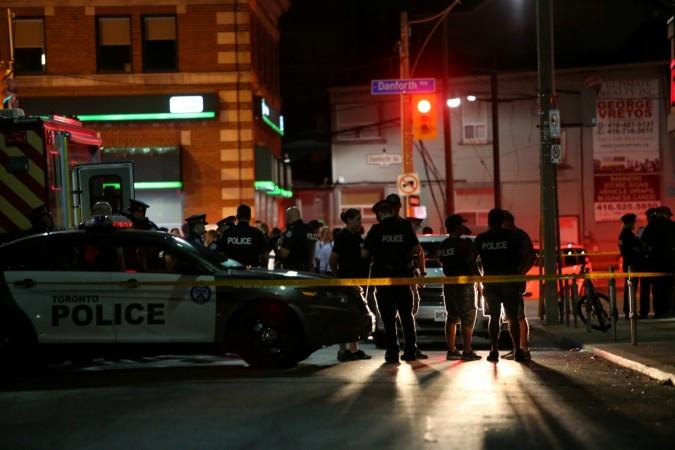 At least 14 people, including a child, were shot outside a restaurant in Toronto on Sunday, July 22, night. The police have said that two people was killed in the incident, while the child is critical. The shooter has also been reported dead.
Eyewitnesses said that the man was firing a gun multiple times and explained that about 15-20 shots must have been fired. Paramedics arrived at the scene immediately after the mass shooting and the injured were moved to a nearby hospital, reported The Toronto Star.
Several blocks have now been cordoned off by the police and the Toronto Fire was also called at 10:04 p.m.
As of now, it is not known how the gunman was killed. However, many suspect that he could have killed himself.
An eyewitness said that he heard the weapons being loaded multiple times and the gunman must have fired about 20 shots. "And then, I saw the carnage as I ran down the street here to kind of follow the gunfire," he told CTV. "I saw at least four people shot."
Another witness told the CBC News that she was at Christina's restaurant with her family when they heard shots and were asked to run into the restaurant. "We started to hear people scream out front," Jody Steinhauer revealed.
Meanwhile, John Tulloch, another witness, said that he was getting out of his car on the Danforth when he heard the gunshots.
I thought it was fireworks at first 'cause it was a rapid fire," he told CBC News. "We saw people starting to run in our direction. I still didn't know what it was and then more people started running."
The latest incident comes just two months after 15 people were injured when an explosion ripped through an Indian restaurant outside Toronto on May 24, night. The explosion reportedly took place at the Bombay Bhel restaurant in Mississauga, Ontario, around 10:30 pm.
Ambulances were rushed to the spot and paramedics helped the people in the area. They told the New York Times that there were "multiple patients at an explosion in Mississauga," and added that three people had "critical blast injuries."
While it was earlier said that the blast could be accidental, caused by a gas leak, the police later released images of two hooded suspects, who are said to have walked into the restaurant and detonated a device. "Two parties fled the scene immediately after the incident," the Peel Regional Police had tweeted.