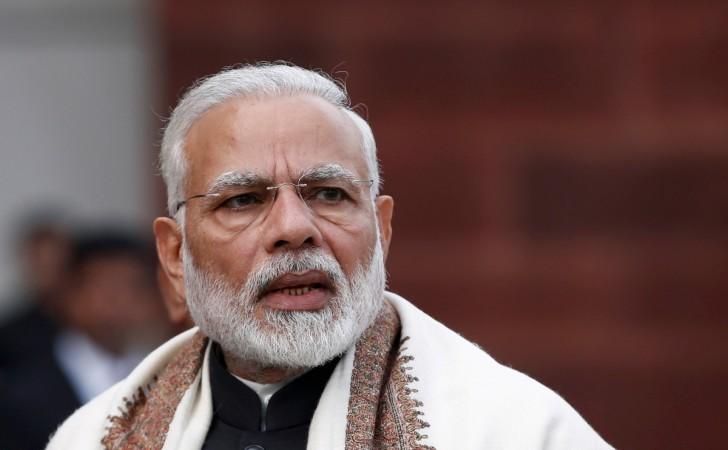 Prime minister Narendra Modi, who is on a 5-day foreign tour, was greeted with loud chants as he landed in Stockholm, Sweden, Monday. People from Indian community had gathered to welcome the Indian prime minister.
Modi even shared a few photos on Facebook that showed him shaking hands with people from the community, but one among them instantly became an internet sensation. Out of the 3 photos, the man was seen shaking hands with Modi in 2 images.
In one of the photos, the bespectacled man was seen wearing a beanie cap and in another photo, he was without the cap. It was VJ and comedian Jose Covaco who pointed out that and soon the man in the photo became a sensation.
"Did this guy run ahead and put a cap on to disguise himself so he could shake Modiji's hand twice?" Covaco tweeted and shared photos of Modi shaking hands with people. Covaco also called him Gagan, but the identity of the man has not been revealed.
The tweet has gone viral and until now, thousands of people have retweeted it and hundreds of social media user have commented on it. Some commented saying that the man was time traveling just to meet Modi twice while some said the photos are edited.
Some even commented saying that it could be his twin, but Covaco ruled out that theory. The comedian approached a man, who recognized Gagan in the photo, and he said that Gagan doesn't have a twin.
#GAGANUPDATE
Fam, Gagan doesn't use social media but he is aware of the madness & is planning to sign up just to reply to this.
[This is the person who recognized him first on insta,so I messaged them.Only Gagan can confirm the parts I've blurred out ] ⌛⏱️ pic.twitter.com/C3I2TRjmU1

— José Covaco (@HoeZaay) April 17, 2018
The comedian said that he has approached Gagan and will uncover the mystery surrounding him, but Twitter can't stop coming with different theories.
Is he a time traveler or Flash?
Valid explanations?
Another Photoshop I guess.
Just kidding
He lost his cap in the crowd which seems like the most likely explanation, and obvious diffrent cameras took the picture at different times.

— Albert Khare (@AlbertKhare1981) April 17, 2018
I think Modi walked back... Which is why the angle difference... I think he lost his cap in the shuffle with 2 dozen people...

— Aquin George (@aquingeorge) April 17, 2018
I understand it's a joke but the pic is taken from different angles,u can see that as the pocket square on Modi is in different directions in both pics,he might have taken off the cap between both the pics

— raja (@sillyfelloww) April 17, 2018
It was clearly shown on @DDNewsLive @narendramodi walked back the same way. #Pidis of Pappy sena are trying their level best to unnecessary malign. What is the issue, If modiji met the person twice #PointLessOpposition https://t.co/DdPjPeDnfQ

— Food (@foodchoupal) April 17, 2018
Thats definitly same picture with diff angles...
PS. I dont know about that cap

— Paras (@parasmap) April 17, 2018