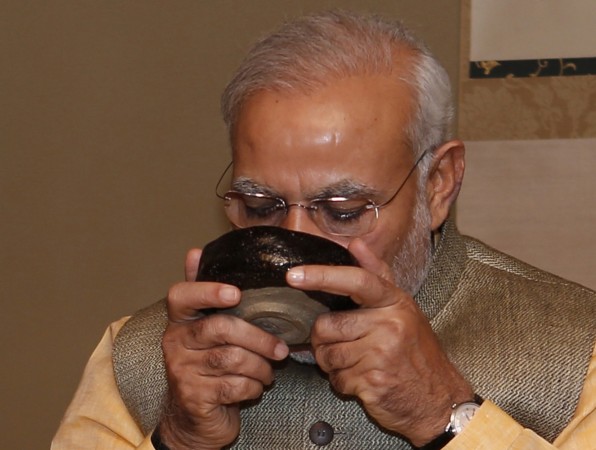 Indian prime minister Narendra Modi arrived in London on Tuesday, April 17, to attend the 2018 Commonwealth Heads of Government Meeting. And while visitors often dig into the English menu with a breakfast of sausages and hash browns as well as try other English foods like the fish and chips, Modi is known to consume the typical "ghar ka khana."
Modi had a breakfast meeting with his British counterpart Theresa May at around 9 am GMT in the English capital.
According to ANI, Shenoy Karmani, the executive chef of St. James Court Taj Hotel in Buckingham Gate, London, has been appointed to make the breakfast and lunch for Modi. The chef along with eight other members served "ghar ka khana" to the prime minister on Tuesday.
The breakfast menu for Modi in London:
Poha –Indian food made of flattened rice, flavored with chilies, onions, mustard and cumin seeds and curry leaves. It is mostly consumed in Maharashtra, Madhya Pradesh, Telangana, Karnataka, and Gujarat.
Upma – A south Indian food that is cooked as a thick porridge from coarse rice flour.
Puri Bhaji – An Indian traditional breakfast comprising puri (deep-fried flattened bread) and aloo bhaji, a spiced potato dish which may be dry or curried.
Seera - A sweet, buttery, cake-like dessert.
Tea and coffee.
The chef revealed that the menu for lunch was primarily Gujarati delicacies made from pure clarified butter.
The lunch menu
Khaman Dhokla - A Gujarati delicacy involving soaked and freshly ground channa dal or channa flour.
Khandvi – A food involving yellowish tightly-rolled pieces made of gram flour and yogurt.
Dal Pakora - A fried snack in the Indian subcontinent made of dried, split pulses.
Torai masala- An Indian curry made of ridge gourd with peppy tomato pulp and a variety of powdered spices.
Stuffed Karela –A recipe made out of stuffed bitter gourd flavored with spices.
Paneer Bhurji – A popular Indian spicy recipe made from crumbled paneer.
Khichdi - A dish from Indian subcontinent made from rice and lentils (dal).