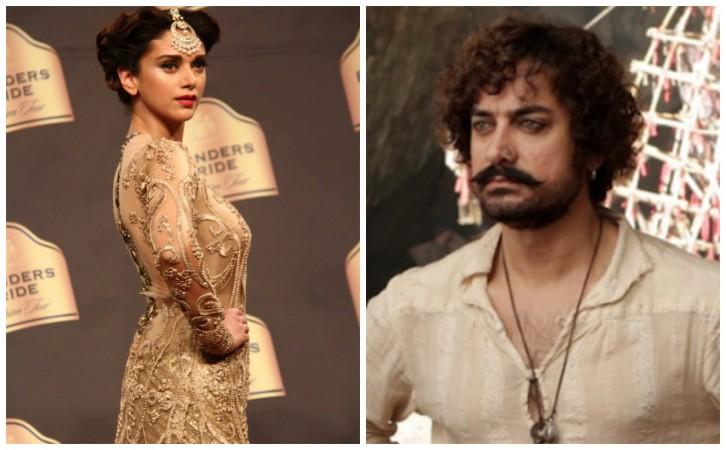 At a time when Aamir Khan's Thugs of Hindostan (TOH) has been receiving a lot of negative review from the audience, actress Aditi Rao Hydari praised the movie and said she really enjoyed watching it.
Aditi took to Twitter and said that she is clueless about why so many people found Thugs of Hindostan bad. Praising the period drama, she urged people to watch it for themselves and then judge.
"I really really enjoyed #ThugsOfHindustan and I just cannot understand why it's being pulled down like it is Action, adventure and superb acting in a well told, super entertaining film... Go watch it guys. Enjoy the ride and decide for yourselves [sic]," Aditi tweeted.
However, soon a series of replies started pouring in, countering the Padmaavat actress. While many right away refused to agree to her views, many others claimed that Aditi spoke positively about Thugs of Hindostan just because she is related to Aamir.
In an attempt to talk good about the film, she instead received a lot of negative comments from her followers, who opined that she is being biased due to her kinship with Aamir. For the uninformed, Aditi is the cousin of Aamir's wife Kiran Rao.
Meanwhile, film critic Rajeev Masand, who also gave a negative review of Thugs of Hindostan, replied to Aditi's tweet, suggesting that films are something that different people accept differently.

"Because films are different things to different people. We can respectfully agree to disagree on some films [sic," he said.
The actress then responded to Rajeev's tweet, thanking him and also expressing sadness at the kind of "venom" being spewed over Thugs of Hindostan.
"Phew!!!! Exactly! Thank you @RajeevMasand .... the kind of venom I'm seeing people spew over this is just mind boggling .... i find myself in a battle field on my what I thought was a 4 day holiday [sic]," she added.
Pls be honest. Even Aamir will admire u more if u give ur honest views.

— Od (@odshek) November 9, 2018
Damnnn i just googled and u r right ? i never knew this.
Lol no wonder she loved TOH.

— Od (@odshek) November 9, 2018
Excuse me @aditiraohydari ..just because ur brother in law is there in that movie a bad film cannot be a good film ..where were you when Race 3 and JHMS were being criticized to support that those too are good films ..#hypocrite

— Shyamsundhar R (@rshyam85) November 9, 2018
I won't believe the review of the relatives of the cast

— Srikanth Ane Nenu ? (@isrihyd) November 10, 2018
Bcoz the commoners doesn't have any association with Aamir in person and also audience knows what a good movie looks like.

— Shubham Singh (@shubhsnub) November 10, 2018
Directed by Vijay Krishna Acharya, Thugs of Hindostan has had a thundering start at the box office, but its collection dipped on the second day due to the negative response from most of the viewers.