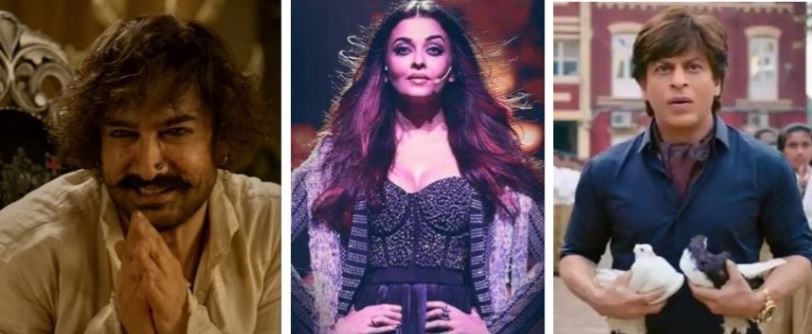 Thugs of Hindostan: When you have big stars in the film, you have bigger expectations; but, the film fell outright flat at all those expectations. Despite the presence of Aamir Khan, Amitabh Bachchan, Katrina Kaif – the film tanked at the box office proving that in the end, it's the story that's the actual king.
Fanney Khan: The film played on the concept of Bollywood's most loved - tried and tested formula. However, the half-baked plot, coupled with excessive melodrama made the film a snooze fest after the first few minutes.
Zero: The intent behind making the film must have been right, but, the flawed script certainly wasn't. Despite Shah Rukh Khan's magnanimous presence, the choppy pace at which the film sailed and the unrealistic twist the plot takes, turned out to be a tad too much for the audience to digest.

Satyamev Jayate: From the concept, the plot, the execution, the acting to the climax; everything about the film is limping and loud. In fact, the seriousness in the film is so overly complex and lame that you end up laughing at many of them.
Namaste England: The draggy snoozefest lacked authenticity and the gravitas that the sequel to 'Namaste London' needed. The zero chemistry between Parineeti Chopra and Arjun Kapoor was another factor that didn't let us connect to the film at all.
Loveyatri: Clichéd, annoying and recycled; that's what Aayush Sharma and Warina Hussain's film was all about.

Welcome To New York: Pointless and confused were the two words we could come up with when we struggled to sit through and watch the film. A plethora of cameos, big names and the film appeared to have been borrowed from some award show.
Yamla Pagla Deewana Phir Se: The way the legendary Deols join hands to make a fool of themselves in the film, is something both embarrassing and disappointing. Neither did the slapstick comedy work and neither did the plot make sense.
Race 3: The film might have looked good on paper but in reality, the film doesn't do justice to the previous films in the franchise. Race 3 was a perfect example of illogical and bad filmmaking at its best.
Bhaiyyaji Superhit: The film is noisy and excessively loud in all aspects – acting, dialogues and drama. Such great talent wasted!