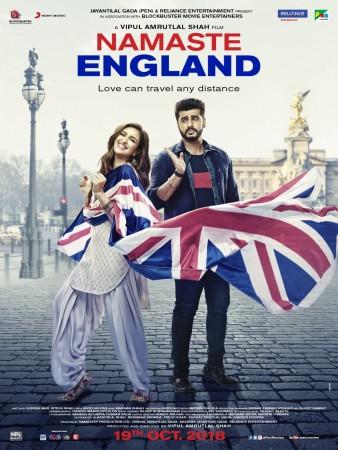 The Arjun Kapoor-Parineeti Chopra film Namaste England released in theatres this Friday directed by Vipul Amrutlala Shah. Namaste England is an entirely different film from the director's hit Namastey London that was released in 2007.
While the Akshay Kumar and Katrina Kaif film is still fresh in our hearts and fans watch it even now (it catapulted Katrina Kaif to a different league altogether), the 'sequel' 11 years down the line is more contemporary in its storyline and with younger stars.
Namastey London was all about the desi boy eventually winning the heart of a London-based Indian kudi (girl). Katrina Kaif was all charming and Akshay Kumar had some of his best emotional scenes in the film, where he marries the girl but accepts rejection after he comes to know she is in love with someone else.
How the 'wife' eventually comes around, understanding 'Indian' family values and true love, formed the crux of the story of Namastey London. So then what is Namaste England all about, a story set in the same country?
Story of Namaste England
Namaste England is also about true love and a sacrificing husband, but eventually makes the woman turn around. In Ki & Ka, Arjun Kapoor played a man who wanted to be a house husband. Therefore he chooses a girl like Kareena Kapoor who is ambitious and will take care of the bills.
In Namaste England, Arjun as (Param) is not a house husband, but a farmer's educated son who begins to understand that his wife Jasmeet (played by Parineeti Chopra) is ambitious and has bigger dreams than his simpleton self. The wife wants to pursue her dreams in London (and why not?) and off she goes.
Arjun follows suit albeit entering England illegally. He wants to understand her ambition and drive. Here is a husband who is willing to make an effort to understand his wife's dreams and her point-of-view, but more so because she has betrayed him at the last moment.
So, what does Mr Husband do? He pledges to win over his wife by taking her betrayal as a challenge (hint of chauvinism here). The movie, therefore, is not so much about letting a woman follow her dreams - she can do that in India, too, it preaches. Why go to England?
There is a line in the movie where Arjun Kapoor says that for the first time he has seen, "Ek aurat ka affair ek shehar ke saath" (A woman's affair with a city - in this case, London). Well, one could argue, why not? Why can't a woman have an "affair" with the city of her dreams? Mumbai, Delhi, New York, Los Angeles, London, Paris? Why stop her?
That's what leaves you disappointed about Namaste England - a predictable ending. But of course, Param is right in saying that building a life abroad by illegal means is wrong.

The first half of Namaste England is dull, sometimes with funny moments, as it is just building up to the real story. The second half has some good dialogues, especially the sarcastic lines of Arjun Kapoor.
There is also some suspense as to how the film will end. And sympathy builds around Param who travels to London via Bangladesh illegally, and lives like labourers, sleeping in a toilet with other illegal immigrants.
There is also a look at the state of Indians who go abroad illegally and do odd jobs to survive, while maintaining a facade at home. This is where the film gets preachy. And the plot gets confusing whether it is a love story or an attempt to halt the brain drain or stop people from dreaming about living in Europe or America, when India is the next superpower.
Performances in Namaste England
The chemistry between Arjun Kapoor and Parineeti Chopra is not as refreshing as it was in their debut film Ishaqzaade (2012), but it is palpable. Namaste England is their second film together and if it is a success, it will help their third film, Sandeep Aur Pinky Faraar that releases in 2019.
After his above average grossers Mubarakan and Half-Girlfriend, both in 2017, Arjun Kapoor needs a hit. And so does Parineeti Chopra, whose last two films (both in 2017) were Golmaal Again and Meri Pyaari Bindu.
Arjun Kapoor sleepwalks through the role but is still likeable and charming. Parineeti Chopra does not have much scope to showcase her acting chops. Aditya Seal and Alankrita Sahai do justice to their roles.
Verdict
Namaste England is a clean family film, but not entertaining enough. It is good on the visuals, having apparently been shot in 75 locations including Paris, Brussels, London, Amritsar, Patiala, Ludhiana and Jalandhar. But thank god it is not a tourist ad-film like how many Bollywood romcoms are.
As more women-oriented films are being made these days, Namaste England could also have been one. That way, it would have gone down well with new age couples. It would have been more interesting to see a story where both husband and wife were equally ambitious and intelligent.
But that is for some other filmmaker to make, maybe. For now, savour this contemporary marriage tale that harps on the 'Desi is the best' formula, where the supportive husband makes the wife come around when she is hell-bent on working abroad by hook or by crook. But Namaste England is not a patch on Namastey London.
Rating: 2.5/5.